Through YI Feel, York International utilizes various components such as images, online blogs, videos and a photo series to initiate a dialogue about mental health among international students at York University. This platform gives students a space to tell their stories, bring to the front what mental health entails for them, while also understanding the cultural differences and therefore the needs of international students when it comes to their mental health and wellness.

MENTAL HEALTH & WELLNESS SUPPORT
Mental Wellness Student Support (also available for students not in Ontario)
YorkU & Other Community Resources
Covid-19 Updates
 YU Better Together
Our Story
YIFeel is one step towards ensuring that everyone who faces mental health challenges asks for support and gets access to it. At York International, we believe that this is a great opportunity to bring student voices to the forefront and establish a well-rounded mental health support system.
The open dialogue that has been initiated by York International and the members of the global community allows students to engage in conversation with the larger York community regarding mental health, and encourages mental health service providers to create a system that can truly meet the needs of international students. We aim to engage and involve international students from various cultures to de-stigmatize mental health and well-being and provide progressive spaces that nurture and help students grow.
YIFeel Community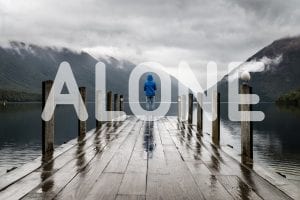 Students share their personal journey through writing short story reflections or blogposts."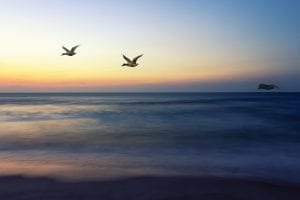 Students share their poems and creative writing about their own mental health experiences.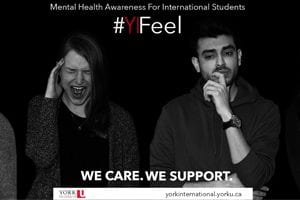 " YI Feel creates progressive spaces for students to talk about their understanding of the concept of mental health and their experiences with it."
YIFeel Projects
What words cannot say: An Art Exhibition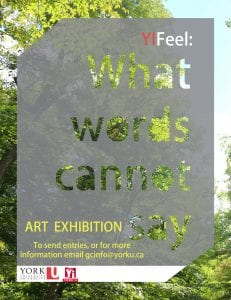 What words cannot say gives space to everyone to express their experiences, thoughts and feelings about mental health and well-being, through any form of art.
The exhibition occurred on March 29th and a photo album filled with pictures of the installation pieces is available for viewing here.
Get Involved
A huge component of the #YI Feel Campaign is the student run blog and visuals section, and the video about the experiences that International Students have with Mental Health. We encourage all of you to join us by contributing in any form that you can, to make this initiative successful.
If you would like to join the conversation and share your experiences and views on Mental Health feel free to get in touch with us via Facebook or email.
Email: peerlead@yorku.ca
If you would like to be part of the video and share your story, please click the link provided to register.