| | |
| --- | --- |
| Instructor: Professor Ian Garrett, igarrett@yorku.ca | Prerequisites? None |
| Course Dates: August 3 - 31 2020 (Tentative) | Open to Non-Majors? With Permission of Course Director |
Check out the participant experience of 2014
Course Overview
Edinburgh Production Practicum is a study-abroad course that offers upper-year Theatre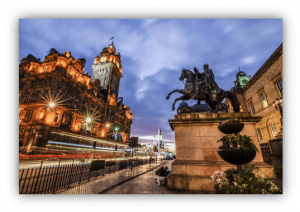 majors the chance to participate in this year's Edinburgh Fringe Festival. The Edinburgh Fringe Festival is an internationally recognized festival that celebrates Scottish and European culture and the performing arts in an epic 3-week adventure.
As a practicum course, students will be writing, directing, and creating their own production with York's own Fringe Theatre Company called YUFFA.  In this unique opportunity, students will be able to also get to know the culture of Edinburgh, the international theatre community, see other Fringe Fest shows, and be able to network and work with others in the industry.
Program Highlights:
Join York's Fringe Theatre Company YUFFA and participate in this year's Edinburgh Fringe Festival

Write, direct, and create your own production to be performed at the Fringe Festival
Get a change to watch many of the other Fringe Shows

Work with playwrights and performers at the Edinburgh Fringe Festival
Get to know the culture and taste of Edinburgh, Scotland through organized tours and excursions.
Hear from former participants
"Edinburgh is beyond expectations. It is such a beautiful city with beautiful people, and during the festival season there is such a warm and wonderful community"

–Michelle Paunov, participated Summer 2017
Watch the teaser from the 2018 Fringe Production "You've Got to be Kidney Me"
Read about YUFFA at Edinburgh Fringe 2017
Read about YUFFA at Edinburgh Fringe 2016
Program fee: Summer 2020 Fees TBA
Includes:

Accommodation
Excursions/Field activities
Welcome Reception
guard.me® Health Insurance

Not Included

Airfare to and from Edinburgh, Scotland
Tuition fee (payable to York University)
Any personal expenses
Fees are subject to change, is dependant on the number of participants
Financial support 
All participants of this course will receive the York International Mobility Award (YIMA) upon completion of the Pre-Departure Training.
Expression of Interest
All students in the School of Arts, Media, Performance, and Design in good academic standing may submit a request to join to enrol in THEA 3000 3.0 – Edinburgh Production Practicum (Summer). All York University students in good academic standing, not enrolled with the School of Arts, Media, Performance, and Design must have approval of the course director, Ian Garrett. The program is open to students at the 2nd year level or above at the time of submission. The course director and the Executive Committee of the Department of Theatre will review all request and notify all applicants of their decision before the end of classes in the Winter term.
To express interest and be considered for enrolment, students must provide:
Name
Contact Information
Department
Program
Year Level
Brief statement of intent regarding why you want to participate
Deposits and Deadlines 
To secure a spot in this course, you'll need to submit a non-refundable deposit of
$500 to York International
(Located in 200 York Lanes, Mon-Fri 9am-4pm).
Deposit ($500):

February 28th, 2020 

Outstanding program fee: 

May 31st, 2020
PLEASE NOTE: We only accept Visa, Mastercard, and debit. No cash or cheques.
Pre-Departure Training and Risk Management Information Session
Attending a Pre-Departure Session is mandatory for all YorkU students participating in the FA/THEA 3000 Edinburgh Production Practicum. York International provides pre-departure training to York students who are scheduled to participate in global learning programs (exchange, internships and other short-term programs). Content covered at Pre-Departure Sessions include:
Travel preparations (research about destination, flight, accommodation arrangements)
Risk Management (waiver, emergency contact card, Registration of Canadians abroad)
guard.me® Insurance
Funding and Finances
Inter-cultural awareness
York Students traveling abroad for international programs are required to purchase guard.me® insurance.To ensure safety and well-being of York students traveling abroad, York University has developed a partnership with guard.me® Insurance. It provides comprehensive insurance coverage and benefits that are in the best interest of the students and the university at-large. Guard.me® covers medical, emergency, evacuation, and 3rd party liability, among others. Please read the guard.me® benefit summary for more information. Students must register directly with guard.me®.
More information on registration will be outlined in the link below.
http://yorkinternational.yorku.ca/go-global/pre-departure-training-and-risk-management/
Please continue to check in for more information about Summer 2020.
For further information, please contact:
Marierose Talla
Go Global Project Assistant, York International
yuabroad@yorku.ca