Instructor: Professor Ian Garrett
Course dates: April 29 – July 29, 2019 with planning work starting in the Winter term.
Abroad program dates: June 2 – 19, 2019
Course Overview

This summer, THEA 3000 will be focused on a trip to Prague, June 2-18, 2019 for a hands on experience with the Canadian Exhibition at the 2019 Prague Quadrennial. Students will work with leading Canadian theatre professionals to build and tour the exhibition to Prague and work with their North American counterparts in the US and Mexico. Work on the Exhibition will begin in March, with a preview of the Exhibition in April before it tours to Prague. Additional opportunities to meet and work with the US and Quebec exhibition teams will also be scheduled. 
This course is a unique international, experiential education opportunity for students interested in theatre design, technical theatre, international touring, and festivals which only comes up every four years. This course will give participants a close-up look at the PQ and insight into the Canadian theatre design community.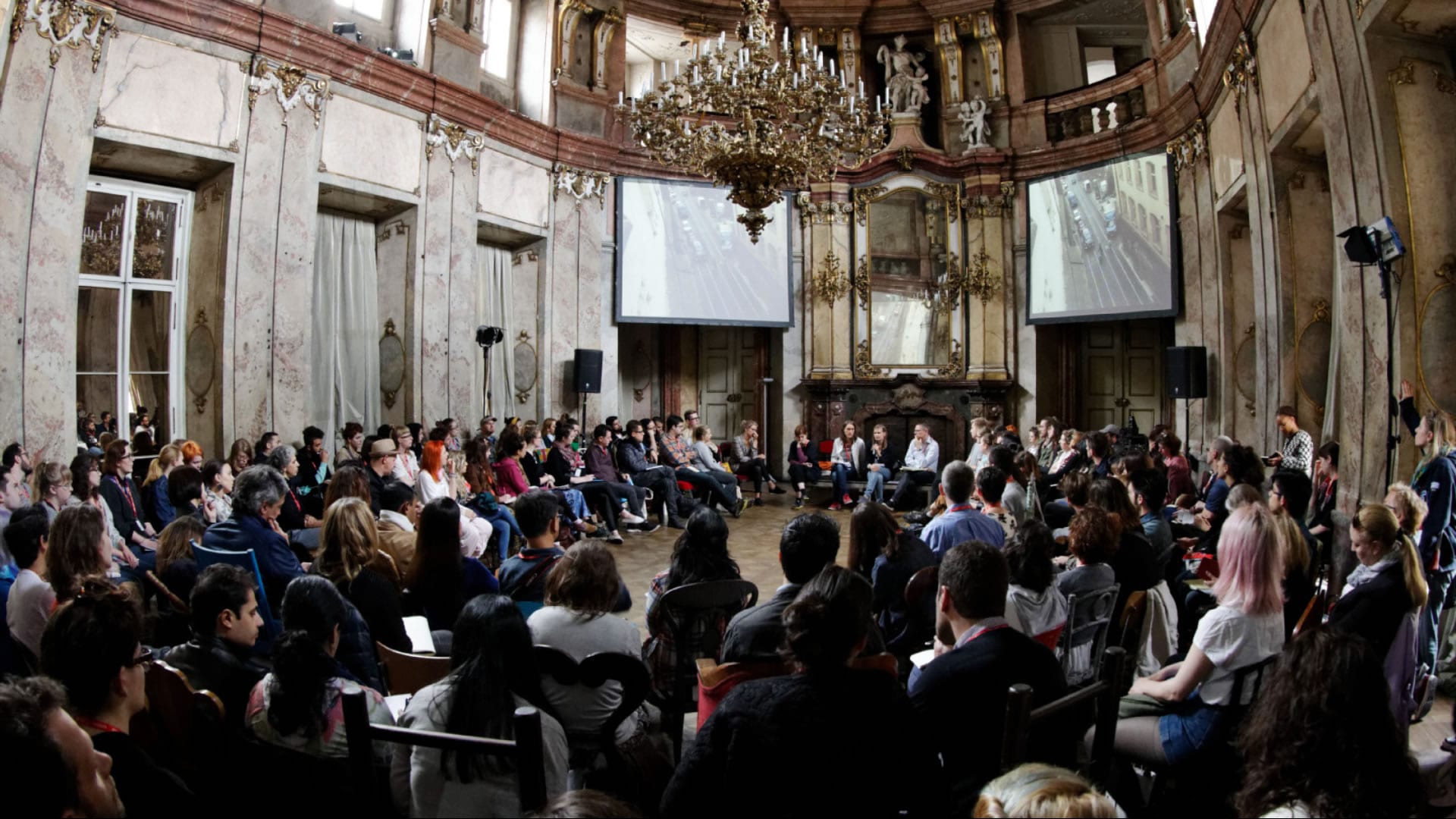 PQ Talks
Prague and the Prague Quadrennial of Performance Design and Space
The Prague Quadrennial of Performance Design and Space, often referred to simply as the PQ, was established in 1967 to bring the best of design for performance, scenography, and theatre architecture to the front line of cultural activities to be experienced by professional and emerging artists as well as the general public. The quadrennial exhibitions, festivals, and educational programs act as a global catalyst of creative progress by encouraging experimentation, networking, innovation, and future collaborations.
The 2019 PQ will take place June 6-16, 2019 on the exhibition grounds of Výstaviště Praha. The previous edition in 2015 included over 600 live events and over 150 expositions during the course of 11 days, presenting performance design (including spatial/set, costume, sound, lighting, and projection design work) from 78 countries. Prague Quadrennial had 180,000 visits, including 6000 accredited professionals and over 1300 students from all over the world actively taking part.
Prague Exhibition Grounds (Výstaviště Praha)
Participation
All students in the School of Arts, Media, Performance, and Design in good academic standing may submit a request to join to enrol in THEA 3000 3.0 – Prague Quadrennial Production Practicum (Summer). All York University students in good academic standing, not enrolled with the School of Arts, Media, Performance, and Design must have approval of the course director, Ian Garrett.
The program is open to students at the 2nd year level or above at the time of submission. The course director and the Executive Committee of the Department of Theatre will review all request and notify all applicants of their decision before the end of classes in the Winter term.
To express interest and be considered for enrolment, students must provide:
Name
Contact Information
Department
Program
Year Level
Brief statement of intent regarding why you want to participate
Statements should be addressed to Ian Garrett. They may be submitted electronically by emailing igarrett@yorku.ca or delivered as a hardcopy to Mary Pecchia in the Department of Theatre office, CFT 320.
Dates and Deadlines
Deadline to express interest in participation: Friday, March 15, 2019
Non-refundable deposit ($250): Monday, March 25, 2019
Outstanding program fee: Monday, April 29, 2019
** All Dates and Expenses Subject to Change **
Deposits and program fees are due to York International (Located in 200 York Lanes, Mon-Fri 9am-4pm).
PLEASE NOTE: We only accept Visa, Mastercard, and debit. No cash or cheques.
Financial support 
All participants of this course will receive the York International Mobility Award (YIMA) upon completion of the Pre-Departure Training.
Pre-Departure Training and Risk Management Information Session
Attending a Pre-Departure Session is mandatory for all YorkU students participating in the FA/THEA 3000: Prague Quadrennial. York International provides pre-departure training to York students who are scheduled to participate in global learning programs (exchange, internships and other short-term programs). Content covered at Pre-Departure Sessions include:
Travel preparations (research about destination, flight, accommodation arrangements)
Risk Management (waiver, emergency contact card, Registration of Canadians abroad)
guard.me® Insurance
Funding and Finances
Inter-cultural awareness
York Students traveling abroad for international programs are required to purchase guard.me® insurance.
To ensure safety and well-being of York students traveling abroad, York University has developed a partnership with guard.me® Insurance. It provides comprehensive insurance coverage and benefits that are in the best interest of the students and the university at-large. Guard.me® covers medical, emergency, evacuation, and 3rd party liability, among others. Please read the guard.me® benefit summary for more information. Students must register directly with guard.me®.
More information on registration will be outlined in the link below.
http://yorkinternational.yorku.ca/go-global/pre-departure-training-and-risk-management/
For further information, please contact: