---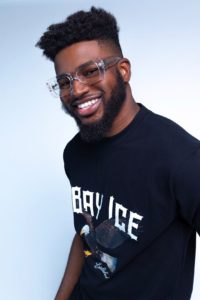 "I hope to show people that regardless of who they are or where they come from, they can succeed and land their dream opportunity!"

---
Name: Fikayo Aderoju
Origin Country: Nigeria
Fikayo Aderoju is a compassionate, enthusiastic, self driven and motivated leader. He is currently in his 4th year studying Economics and an Intake Manager at TD Bank. He's also a Peer Mentor for York University's Vanier College and a TD Campus Ambassador, where he connects students with fantastic opportunities. Fikayo's life mandate is to impact lives and inspire people. He truly loves helping others reach their full potential and become the best version of themselves.
Attitude of gratitude informs Aderoju's life
By Elaine Smith
Fikayo Aderoju attributes his successes in life to a Jesus and has turned his gratitude into action.
Aderoju, an international student from Nigeria who will be graduating with honours in economics from York University in 2022, and a circle of friends have created an informal charitable endeavour called Project Impacting Lives to give back to the Toronto community that has nurtured him throughout his undergraduate years.
"I'm a Christian and every single success in my life I attribute to God," Aderoju says. "I didn't want to wait until I was an alumnus to put some good out there, so in 2019, I started Project Impacting Lives with a group of friends. It's a youth initiative to help people in need and make their lives better."
The non-profit group got off to a rocky start when Fikayo and his friends decided to distribute food to the homeless in downtown Toronto and found the intended recipients weren't tempted by the items they were offering.
"We didn't give up; we decided to try again," says Aderoju. "We became more strategic and did some research to see what was really needed. The next time, we brought emergency blankets, warm gloves and socks and we received tons of hugs in return. Last December, we gave out 100 packages on the street and we got lots of hugs."
Using their personal funds and donations from their networks, the informal not-for-profit continues to "put some good out there." This past summer, the friends participated in a food and fun fair in North York. They cooked dishes from Aderoju's native Nigeria – chicken, jollof rice and plantains – and gave away meals to area residents and distributed some to the homeless. Recently, Project Impacting Lives raised money for a $1,100 scholarship to help a university student in financial need and then spread to word to potential applicants.
"We were worried about what we'd do if nobody applied, but we had 63 applicants," Aderoju says. "The whole team has been reading through the applications. It's hard to decide; there are so many great stories."
Aderoju's good works come from his heart and from his own experience. Although his parents pay his university tuition, he is responsible for his own living expenses and has been working while attending university to support himself. Since Oct. 2020, he has worked as a paid intern for TD Bank; first as a business analyst, then as an intake manager. He has also become a campus ambassador for TD, sharing his experiences and helping students get their resumes in front of the bank's recruiters.
"Last May, I was begging for an internship and God blessed me," Aderoju says. "I want to help 50 Black students get their own internships in 2022."
Aderoju also assists fellow students in other ways. He is a peer mentor for Vanier College, coaching others on writing resumes and cover letter and he also serves as a Dean's ambassador, motivating prospective high school students to attend York. In addition, he is a mentee in the Advancing Black Students stream of a new York University program, Advancing YU.
"I'm part of the inaugural class of mentees," he says. "We meet monthly to get guidance on careers and navigating the corporate space."
In fact, Aderoju is starting to explore career opportunities, since he'll be graduating this coming spring, and whatever he learns about the process, he shares with others.
"Helping students isn't work to me," he says. "I like motivating myself and other people. I'm on this Earth to inspire people and impact their lives and I'm doing that to the best of my ability."
Aderoju also feels blessed to have had the opportunity to attend York.
"I called the admissions office tirelessly until they let me in," he says. "I didn't want to be anywhere else."
Although he initially dreamed of being an architect, he's happier with his economics major.
"I like it a lot and I get to use what I learn in everyday life. I've learned time management and to ask for help when I need it, and I've put in a lot of hard work."
Obviously, both he and the larger community will continue to benefit from his knowledge and initiative.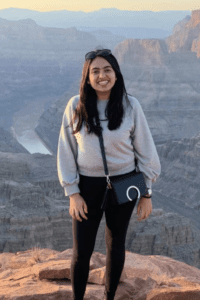 "My advice to any new student is an essential part of university is also character development. So build your circle, join clubs, have meaningful interactions, and be prepared to be challenged and step out of your comfort zone."

---
Name: Karishma Savani
Origin Country: Kenya
Karishma Savani is a proud York Alumni who now works as a Grants Manager at Mitacs. She majored in Psychology with a minor in Business. During her time at York University, she was Vice President of Operations at the Entrepreneurship Development Association, a member of York Ismaili Students Association and UPSA, a Residence Life Don, Peer Mentor and student staff member at York International.
Undergraduate experience provided abundant life experiences, lessons
By Elaine Smith
Karishma Savani (BSc 2019) is proud of her York University Psychology and Business degree, but she is equally pleased by the lessons learned from her extracurricular activities, internship and work experiences.
"I had so much fun at York," says Savani, now working as a Grants Manger with Mitacs, a not-for-profit that promotes research and training programs nationwide. "I learned so much during my time at York and grew so much as a person."
Savani originally hails from the Congo, but she attended high school at a Kenyan boarding school before coming to Canada for her undergraduate degree. Her boarding school experience also laid the groundwork for the wealth of opportunities in which she participated outside the classroom.
"At boarding school, you have no time to sit around and relax," Savani says. "It's a go-go-go mentality."
At York, Savani certainly was a goer and she hit the ground running, becoming a volunteer for York International (YI), the university's hub for all things international, and a member of residence council.
"I was involved with York International all four years at York," she says. "I volunteered at events and helped organize them; I was mentored by a peer mentor and became one myself; and I also worked for YI as a front desk assistant, growing the position into one of international student support assistant where I prepared information for staff reports and helped organize events."
Through its Go Global program, York International also provided Savani with financial support toward an internship in Sri Lanka. Savani spent a month there working for a non-profit organization that offered art and music therapy to school children and adults in retirement homes, tasks designed to relieve depression, among other mental health disabilities and concerns.
"It was the first trip I took solo and I had to meet and live with new people, manage my time and plan my own excursions," she says. "It was a cultural eye-opener and it also helped me to decide what to focus on in psychology, since I found it was easier for me to work with adults."
Savani also dug deeper into residence life opportunities, working as a porter at Bethune residence and, in her final year, as a residence don at Pond residence.
"I love working with students," she says. "As a porter, I got to meet so many new people, while as a don, I had more personal interactions and involvement. I enjoyed the one-on-one exchanges, and we did a lot of events organizing, so I had to get creative."
And, as if those activities wouldn't keep her busy enough, Savani was a member of the Entrepreneurs Development Association, a club that helped students learn about entrepreneurship. She began as a volunteer before moving on to operations manager and, in her third year, vice-president of operations. In her fourth year, she informally mentored students, but turned her extra energies to serving as an ambassador for the Faculty of Health, promoting the faculty to high school students at various events. In addition, she had a job in the campus copyright office.
"I made sure I was as involved as I could be," Savani says.
Undoubtedly, the University benefited from Savani's efforts as much as she did.