The International Student and Scholar Services Team support international student retention and success by offering expert non-academic programs and services, and by fostering a dynamic global community.
February 8, 2018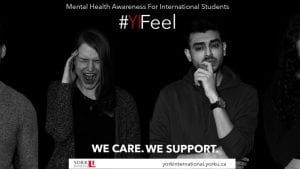 "As an international student, this campaign gave me a better and fuller
perspective of mental health and its importance."
January 29, 2018
Introducing #YIFeel: The International Student Mental Health Awareness Campaign
January 4, 2018
YorkU to Yorkdale Mall in the new YorkU Subway
Find more videos at York International's Youtube Channel.
Future Leaders Connect 2018 applications are now open!
Could your bright idea and drive win you a place on a prestigious leadership course in the UK?
The British Council seeks exceptional leaders aged 18-35 to join a nine-day workshop in the UK to learn from global policy experts and inspirational leaders. Future Leaders Connect, will give 50 young high-achievers nine days of leadership learning experience, culminating in a series of exclusive workshops and meetings in the UK Houses of Parliament. Participants last year presented their policy ideas at 10 Downing Street, had meetings at the BBC and the Houses of Parliament and discussed global challenges with former heads of the United Nations Ban Ki-Moon and Kofi Annan.
Applications must be submitted online before Sunday 13 May 2018 23.59 (UK time).

Immigration Specialist Hours
In-person:
Monday 2pm-4pm (individual)
Tuesday 10am-1pm (Group) and 2pm-4pm (individual)
Wednesday 10am-1pm (Group) and 2pm-4pm (individual)
Thursday 10am-1pm (Group) and 2pm-4pm (individual)

---
NOTE: Drop-In Hours are subject to change
NOTE: The Immigration Specialist is available to answer both immigration and non-immigration related questions.
Email: iadvisor@yorku.ca
UHIP Office Hours
In-person:
Tuesday 1pm-4pm
Thursday 9am-12pm
---
NOTE: Drop-In Hours are subject to change
Email: uhip@yorku.ca
Location: 200 York Lanes
Phone: 416-736-5177
NOTE: Always include your student number when emailing us
Mon
Tue
Wed
Thu
Fri
Sat
Sun

New International Student Orientation

10:00 am

New International Student Orientation

Sep 4 @ 10:00 am – 12:00 pm

WELCOME TO YORK UNIVERSITY! Congratulations on your admission to York University!  We are delighted that you will soon join York's international community of more than 6,000 students from over 160 countries. We at York International[...]

YI Welcome Services Booths

1:00 pm

YI Welcome Services Booths

Sep 4 @ 1:00 pm – 4:00 pm

New international Students: Not sure what to do or where to go when you arrive at York University?  Look out for one of York International's Welcome Services booths located at various locations around campus.  The[...]

YI Welcome Services Booths

1:00 pm

YI Welcome Services Booths

Sep 5 @ 1:00 pm – 4:00 pm

New international Students: Not sure what to do or where to go when you arrive at York University?  Look out for one of York International's Welcome Services booths located at various locations around campus.  The[...]

New International Student Orientation

10:00 am

New International Student Orientation

Sep 6 @ 10:00 am – 12:00 pm

WELCOME TO YORK UNIVERSITY! Congratulations on your admission to York University!  We are delighted that you will soon join York's international community of more than 6,000 students from over 160 countries. We at York International[...]

YI Welcome Services Booths

1:00 pm

YI Welcome Services Booths

Sep 6 @ 1:00 pm – 4:00 pm

New international Students: Not sure what to do or where to go when you arrive at York University?  Look out for one of York International's Welcome Services booths located at various locations around campus.  The[...]

New International Student Orientation

2:00 pm

New International Student Orientation

Sep 6 @ 2:00 pm – 4:00 pm

WELCOME TO YORK UNIVERSITY! Congratulations on your admission to York University!  We are delighted that you will soon join York's international community of more than 6,000 students from over 160 countries. We at York International[...]

Welcome Reception for International Students

12:00 pm

Welcome Reception for International Students

Sep 7 @ 12:00 pm – 3:00 pm

WELCOME TO YORK UNIVERSITY! York International will be hosting a welcome reception for all international students to provide an opportunity for you to get to know the various York University resources.  You will have the[...]

YI Welcome Services Booths

1:00 pm

YI Welcome Services Booths

Sep 7 @ 1:00 pm – 4:00 pm

New international Students: Not sure what to do or where to go when you arrive at York University?  Look out for one of York International's Welcome Services booths located at various locations around campus.  The[...]

Banking in Canada

12:30 pm

Banking in Canada

Sep 13 @ 12:30 pm – 1:30 pm

Please join York International's Living in Canada Sessions for an informative and fun workshop on how to manage your finances while in Canada. This session will feature a presentation by an expert in student financial[...]

Coffee Break @ The Global Café

2:00 pm

Coffee Break @ The Global Café

Sep 13 @ 2:00 pm – 4:00 pm

Join the Global Peer Program on Tuesday and Thursday afternoons for a Coffee Break the Global Cafe! This is a great opportunity to meet new and old friends, ask senior students and York International staff[...]

Coffee Break @ The Global Café

2:00 pm

Coffee Break @ The Global Café

Sep 18 @ 2:00 pm – 4:00 pm

Join the Global Peer Program on Tuesday and Thursday afternoons for a Coffee Break the Global Cafe! This is a great opportunity to meet new and old friends, ask senior students and York International staff[...]

Exchange Information Session

12:00 pm

Exchange Information Session

Sep 19 @ 12:00 pm – 1:00 pm

Attend an Exchange Information Session! Learn how to study abroad, pay tuition to York and earn credits for your York degree.

Global Internships Information Session

2:00 pm

Global Internships Information Session

Sep 19 @ 2:00 pm – 3:00 pm

Interested in going on a funded international internship? Find out more about program requirements and application process. Please register to attend a Global Internships information session.

Exchange Information Session

12:00 pm

Exchange Information Session

Sep 20 @ 12:00 pm – 1:00 pm

Attend an Exchange Information Session! Learn how to study abroad, pay tuition to York and earn credits for your York degree.

Coffee Break @ The Global Café

2:00 pm

Coffee Break @ The Global Café

Sep 20 @ 2:00 pm – 4:00 pm

Join the Global Peer Program on Tuesday and Thursday afternoons for a Coffee Break the Global Cafe! This is a great opportunity to meet new and old friends, ask senior students and York International staff[...]

Coffee Break @ The Global Café

2:00 pm

Coffee Break @ The Global Café

Sep 25 @ 2:00 pm – 4:00 pm

Join the Global Peer Program on Tuesday and Thursday afternoons for a Coffee Break the Global Cafe! This is a great opportunity to meet new and old friends, ask senior students and York International staff[...]

Exchange Information Session

5:30 pm

Exchange Information Session

Sep 25 @ 5:30 pm – 6:30 pm

Interested in going on exchange? Learn how you can study at a university in another country, pay tuition to York and bring credits back to your York degree.

Exchange Information Session

12:00 pm

Exchange Information Session

Sep 26 @ 12:00 pm – 1:00 pm

Attend an Exchange Information Session! Learn how to study abroad, pay tuition to York and earn credits for your York degree.

True Spanish Experience Information Session

1:30 pm

True Spanish Experience Information Session

Sep 26 @ 1:30 pm – 2:30 pm

Please register to attend this information session.

Global Internships Information Session

10:00 am

Global Internships Information Session

Sep 27 @ 10:00 am – 11:00 am

Interested in going on a funded international internship? Find out more about program requirements and application process. Please register to attend a Global Internships information session.

Exchange Information Session

12:00 pm

Exchange Information Session

Sep 27 @ 12:00 pm – 1:00 pm

Attend an Exchange Information Session! Learn how to study abroad, pay tuition to York and earn credits for your York degree.

Coffee Break @ The Global Café

2:00 pm

Coffee Break @ The Global Café

Sep 27 @ 2:00 pm – 4:00 pm

Join the Global Peer Program on Tuesday and Thursday afternoons for a Coffee Break the Global Cafe! This is a great opportunity to meet new and old friends, ask senior students and York International staff[...]
International Student Support
Safety & Security Services
About ISSS