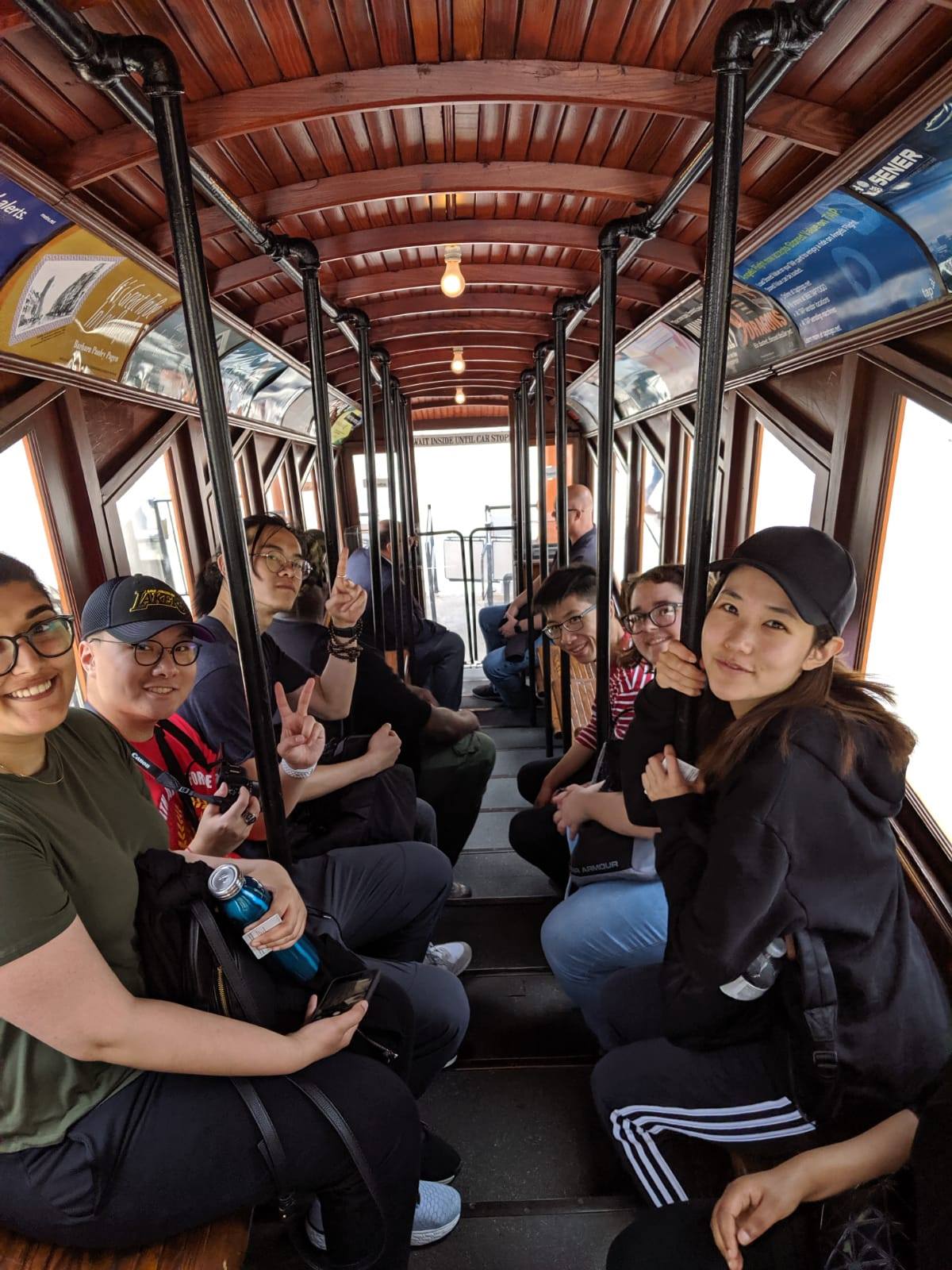 Taking a ride on the historic "Angel's Flight"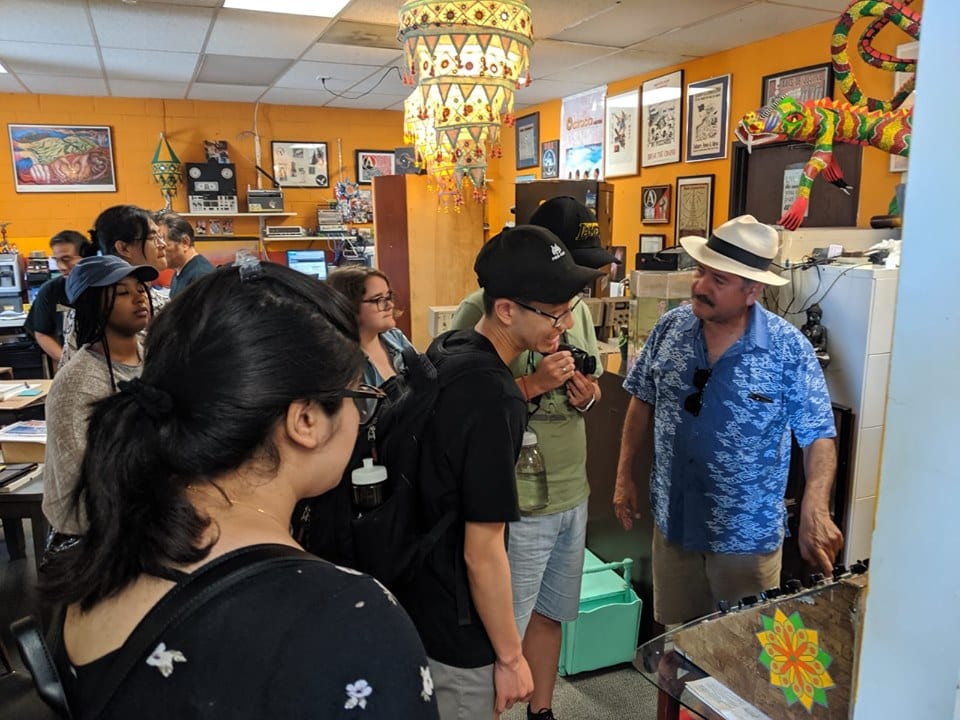 Students workshopping a new segment for NPR in the live studio, visiting the tape vault from KPFK that holds Pacifica radio recordings dating back to 1949, including the original radio console.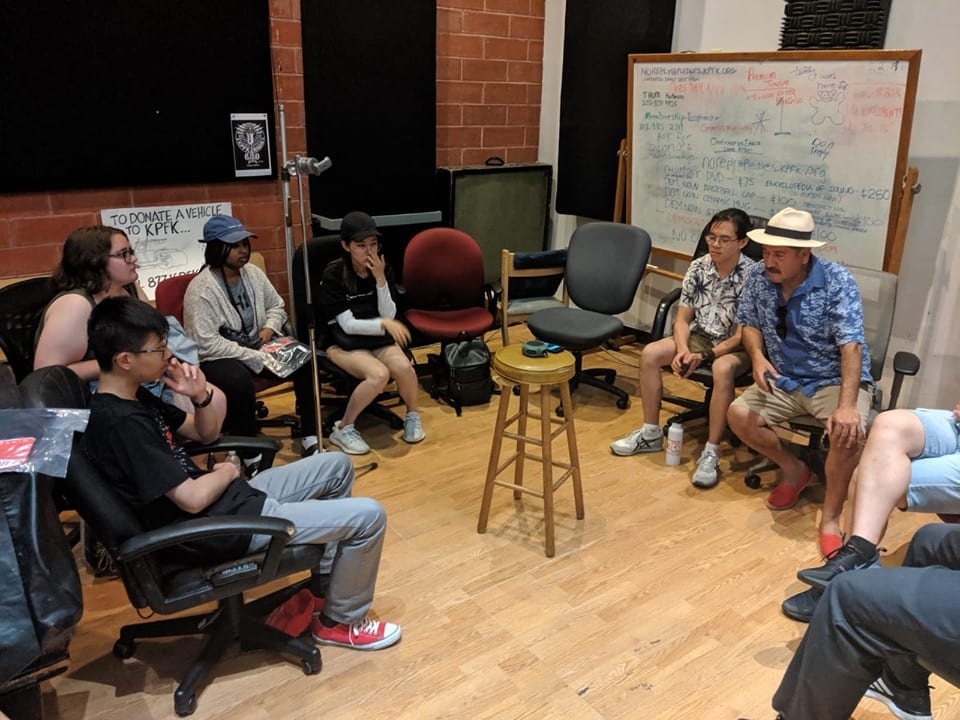 Betto Arcos, world music radio host from KPFK-FM Radio, NPR and BBC News gives students a tour of the oldest public radio station on Los Angeles, KPFK 90.7 FM Los Angeles / 98.7 FM Santa Barbara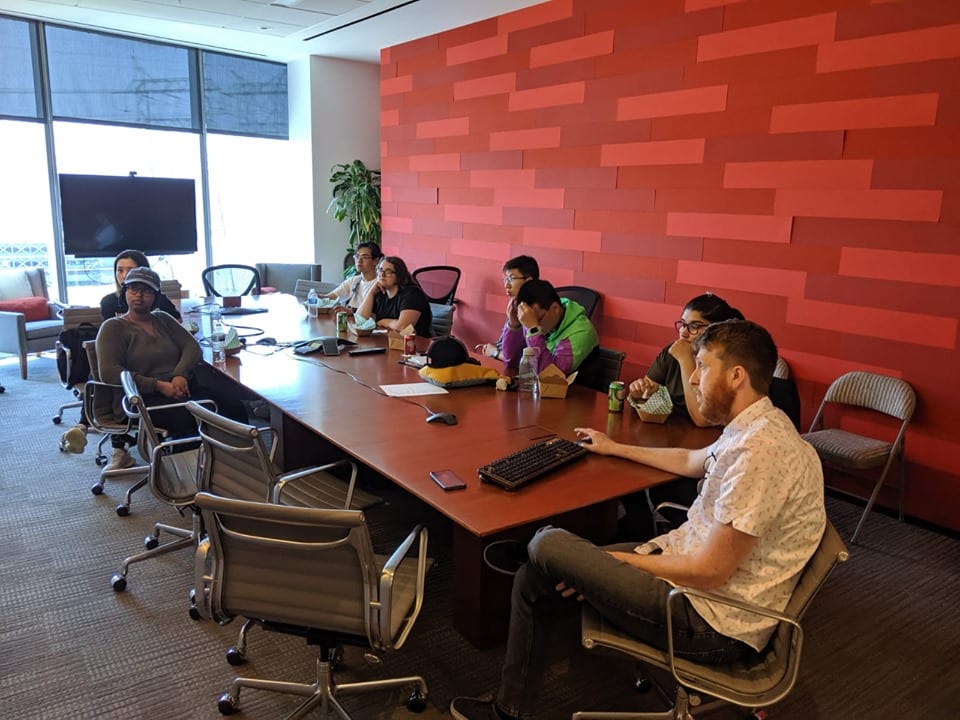 Students pitch their digital content ideas for a PBS documentary called "Night Shift" to the film's Director David Grabias.
Dina Sarhan, Make Studio, lectures on Disney and California vernacular architecture at The Grove.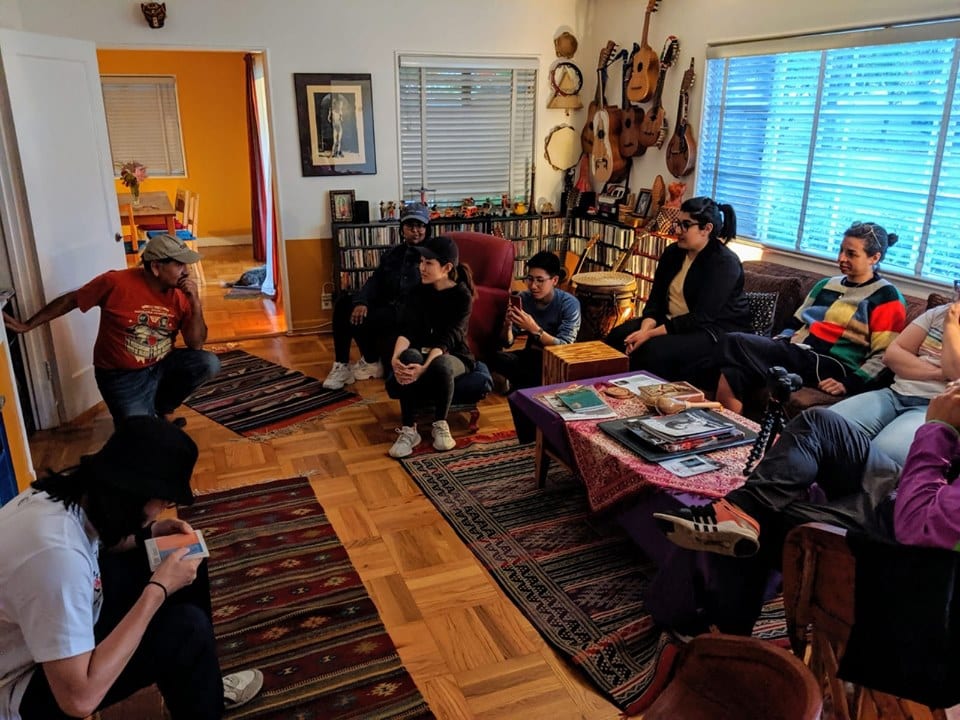 Betto Arcos' music salon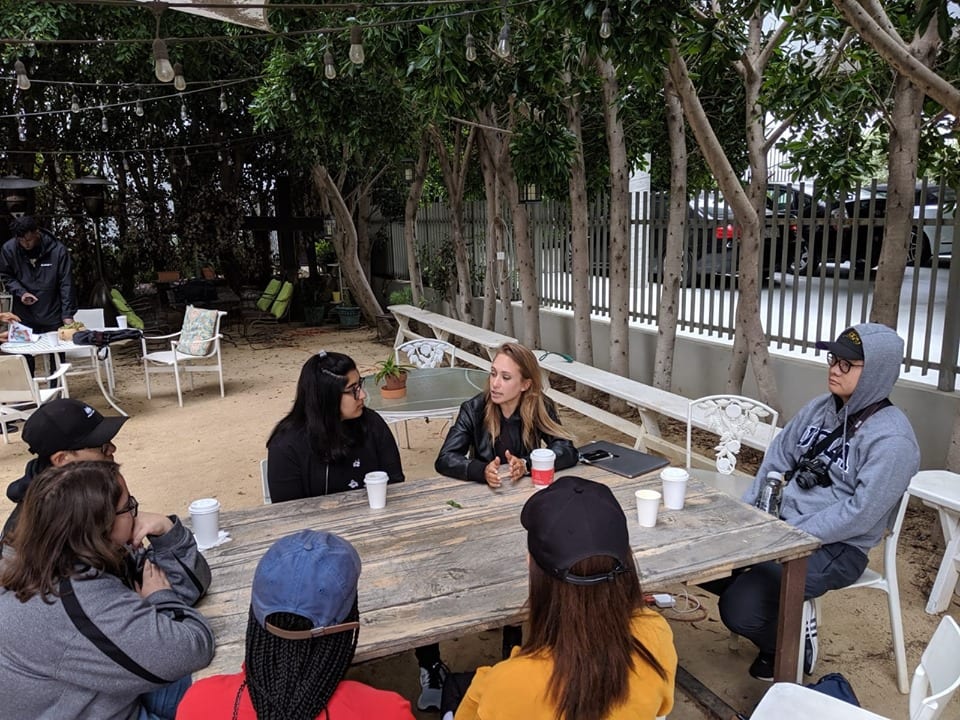 Kristin Grant, CEO of Westcott Multimedia, gives students insights into the future of the streaming music industry at a Santa Monica Cafe — in Los Angeles, California.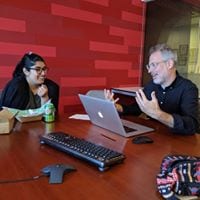 Students pitch their digital content ideas for a PBS documentary called "Night Shift" to the film's Director David Grabias.
Led by Professor Kenneth Rogers, York University students have the opportunity to explore Los Angeles this summer in many ways, including:
FILM 3375: Learning from Los Angeles: History of the Image and the Image of History

FA/FILM 3375: Learning from LA Course Syllabus

Course Dates: July 1-31, 2022

Learning from Los Angeles is a study-abroad course that will explore the fantastic histories, myths, and contradictions of the first modern media city, and the image it fashioned for itself.  As an experiential field course, it will blend screenings, readings, and field trips to focus on a variety of themes and topics about the city and its histories.

While exploring the gilded legends from the silent to the studio era, the course will simultaneously take a street view of Los Angeles and connect students with the many communities and cultural organizations committed to its unknown and forgotten histories such as the LA Urban Rangers; the LAPD (Los Angeles Poverty Department); The Center for Land Use Interpretation; and the LA River Revitalization Project.

Optional Overnight Field Trip: Palm Springs

Work Placement Opportunities
Program Highlights:
Work and network with industry leaders
Get behind the scenes with tours and hands-on workshops
Create a production to share your knowledge
Eligibility criteria and how can I apply?
I am interested in LA placement opportunities, how do I go about this?
Exposure and connections with film and media organizations in LA is embedded in the summer course through guest lectures, study visits and discussions with professionals in the industry. If you're interested in additional LA internship/placement opportunities, please connect with Prof. Ken Rogers at

krogers1@yorku.ca. You may also indicate this in your application form.
Course dates and schedule
The FILM 3375 LA Summer Course will be organized in Los Angeles, California on July 1st

to 31st. Details of course schedule (classes, study trips, etc.) will be available soon.
| | |
| --- | --- |
| | FILM 3375 |
| Program Fees | $3,100 - $3,200 |
| Additional Trips | $240.00 |
Subject to change, program fees will depend on the final number of participants
Program fees include:
Shared accommodation

Study trips, excursions, field activities

Welcome Reception

guard.me® Health Insurance

LA Metro Bus Pass
Not Included
Airfare to and from Los Angeles

Tuition fees (payable to York University)

Any personal expenses
Additional trips: these overnight trips include the cost of transportation, boarding, and educational activities such as museum visits.
Financial support 
All participants of this course will receive the York International Mobility Award (YIMA) upon completion of the Pre-Departure Training and Travel Risk Requirements.
Taking a full course load in the summer (6.0 credits) qualifies you for Ontario Student Assistance Program (OSAP)
What are next steps?
Upon acceptance/confirmation from Prof. Ken Rogers:

Program fee deposit of

$500

by March 31st
Pay course tuition and apply for OSAP
Program fee final installment of

$2,750

by April 30th

LA Summer Abroad pre-departure and risk management orientation, May 16. Time and zoom details to follow.
PLEASE NOTE: You do not need to come to York International Office. All payments will be conducted online. We only accept Visa and Mastercard. No cash or cheques.
Program fees – $3,200:

This includes shared accommodation at Eddy Co, lectures from partner faculty/industry experts, study trips, excursions, field activities, welcome Reception, guard.me health insurance and LA Metro Pass.
Other costs (not included in program fees):

tuition/course fees, airfare to and from Los Angeles and travel insurance, meals and other personal expenses.

Note: Course fees (tuition) are paid to the Registrar's Office just like how you would register for any other York course. Some domestic students may be eligible for OSAP, please review relevant links below.

Funding support:

Students accepted to participate in the LA Summer Course are eligible for

CAD500 York International Mobility Award (YIMA).
Where will students stay in LA (student accommodation)?
York University is partnering with

Eddy Co

to provide student accommodation for the duration of the FILM 3375 LA Summer Course. This will be a shared accommodation following safety guidelines.
Attending a Pre-Departure Session is mandatory for all YorkU students participating in faculty-led summer abroad programs. York International provides pre-departure training to York students who are scheduled to participate in global learning programs (exchange, internships and other short-term programs). Content covered at Pre-Departure Sessions include:
Travel preparations (research about destination, flight, accommodation arrangements)
Risk Management (waiver, emergency contact card, Registration of Canadians abroad)
Guard.me® Insurance
Funding and Finances
Inter-cultural awareness
York Students traveling abroad for international programs are required to purchase Guard.me® insurance. To ensure safety and well-being of York students traveling abroad, York University has developed a partnership with Guard.me® Insurance. It provides comprehensive insurance coverage and benefits that are in the best interest of the students and the university at-large. Guard.me® covers medical, emergency, evacuation, and 3rd party liability, among others. Please read the guard.me® benefit summary for more information. Students must register directly with guard.me®.
More information on registration will be outlined in the link below.
http://yorkinternational.yorku.ca/go-global/pre-
departure-training-and-risk-management/
---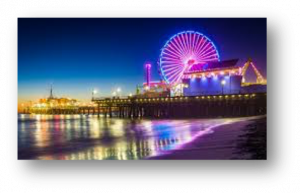 Contact and Application
Deposits and Deadlines
Spots are limited! Please check back soon for application details!
For further information, please contact:
Global Learning Coordinator, York International
yuabroad@yorku.ca