---
Participate and Create Local and Global Impact!
Grow your knowledge on the SDGs and important global skills such as intercultural communication, leadership, collaboration, creativity, critical thinking, digital fluency and project management skills through virtual workshops.
Make local and global impact by leading your own action projects that will contribute to the SDGs with the mentorship of York and partner faculties, global experts and in collaboration with your peers from around the world. (more details in SDG Project Outline)
Receive up to $8,000 to support you to study, research or work in the communities/locations of your SDG projects (must be a current York University Student)*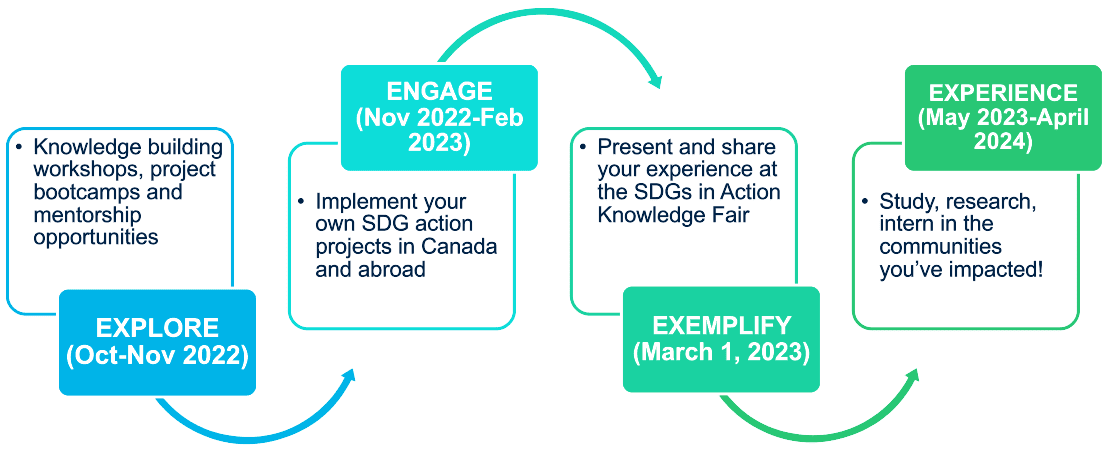 *Note: Funding would depend duration, and location of your study, work, or research abroad, which will be configured to best fit your degree path and objectives.
---
Program Dates and Information
Applications for the 2022-23 program are now closed. If you are interested in participating in the next year's program, keep an eye on calls for participation on Spring 2023. Once accepted into this program, students are required to:
October - November 2022
Attend two out the three SDG thematic workshops and the two workshops on project management and community engagement.
October 12, 2022

Project Launch: SDGs Introduction & SDG 17 Partnerships for the Goals

October 19, 2022

SDG 1: No Poverty ​&

SDG 3: Good Health & Wellbeing

October 26, 2022

SDG 6: Clean Water & Sanitation ​&

SDG 9: Industry, Innovation & Infrastructure

November 2, 2022

Setting up Projects for Success: Working in Teams and Project Management [developing Action Plans] [mandatory]

November 9, 2022

Community-Based Collaborative Action [how to engage with community partners, do's and don'ts of ethical sustainable development] [mandatory]

November/22 - February/23
Actively participate on group work, project development and implementation
November 15, 2022

Deadline to submit GSO virtual form (will receive an email invitation)

November 25, 2022

Project Proposal

December 9, 2022

Deadline to submit ethics application (if required)

December 14, 2022

Progress update session

February 15, 2023

Deadline to submit projects
March 1, 2023
Participate on the Knowledge Fair
---
FAQ's

Yes, you can! You'll be able to learn about the SDGs as you participate in the workshops and prepare your action project.

Yes, so long as you are still eligible for the study abroad opportunities which are available. You must be enrolled as a York University student for the duration of your study/work trip.

Yes, you are eligible! Please note that you will need to be a current student to complete the study/work placement abroad.

If there are extenuating circumstances, you're more than welcome to disclose this in the application for the Program committee to take under consideration in the distribution of funds. We also encourage potential students to reach out to respective programs and faculties for other available sources of funding.

If you already have a project in mind, you are more than welcome to propose your project to your student group. Be ready to work with new members to your group and be flexible to feedback and adaptions to allow each member of the group to contribute.

For York Students, applications are open now! Confirmation of your study abroad will vary depending on the program. For summer programs and internships at York International, students will typically prepare their application in February and be notified by mid-March.

Yes, you can! Please specify in your application that would only like to participate in the workshops.

---

Are you an Faculty Member interested in being a Mentor? Check out the details in the Call for Faculty Mentors

---

Contact Information:

Ana Maria Martinez, Associate Director, Las Nubes EcoCampus, York International (YI)/EUC anamms@yorku.ca
Helen Balderama, Director, Global Engagement and Partnerships, YI helencb@yorku.ca

---
Funded by the Government of Canada's Outbound Student Mobility Pilot Program Global Skills Opportunity (GSO).