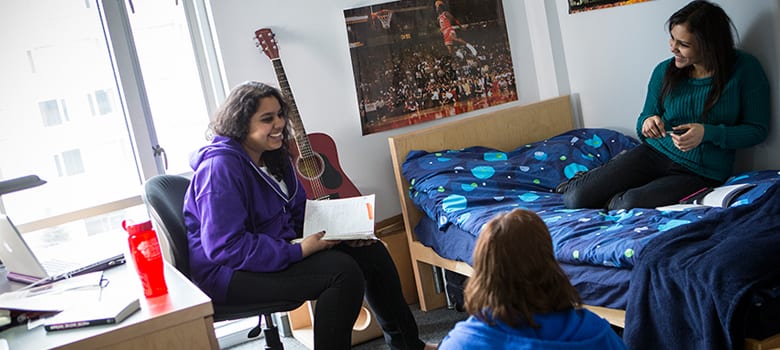 For many students, living on-campus and in residence provides great opportunities to connect with new friends and meet people from different backgrounds and cultures. Other students may prefer the chance to live elsewhere in Toronto. This section will give you useful information on what to consider as you make a decision about where to live.
Both undergraduate or graduate students who decide to live on York's Keele or Glendon campuses will be within walking distance of everything they need.
York's Keele campus is like a small city unto itself, complete with shops, sports and fitness facilities, art galleries parks and green spaces, restaurants, cafés and pubs, while York's Glendon campus offers a more intimate university experience that is immersed in mid-town Toronto's Lawrence Park neighbourhood.
If you choose to live on campus, York University offers many housing options designed to fit your needs. Many undergraduate students choose to live on-campus in a shared accommodation, called "residence". Living in residence can help make the transition to university and to living in a new country easier because you will be surrounded by peers, and will enjoy the ease of not having to shop for food and cook for yourself.
Note: All students are required to provide their own linens, however housing services will be pleased to loan you some until you are able to purchase your own.
York's eight undergraduate residences at the Keele campus offer shared or private room accommodation and have distinct lifestyles, facilities, resources and programs. Please note that all undergraduate residence accommodations are shared in some ways, as only some bedrooms can be fully private. For detailed information about residence at the Keele Campus and virtual tours of our residence rooms please click here. Keele residences are divided into two complexes.
Graduate, Mature Students and Students with Family
York Apartments welcome eligible graduate students, Osgoode law students and students with families (spouse/children) admitted to York University. Students must maintain their registration status at York in a full-time degree program and must not accumulate debt on their student account in order to maintain their eligibility for residence.
The apartments are conveniently located on the York Keele campus and are within walking distance to classes and all campus amenities. For students living with their family, York's graduate apartments contain a community playground and the nearby Atkinson Residence offers a daycare facility.
The York University Apartments offer both furnished and unfurnished apartments, and include bachelor, one-bedroom and two-bedroom units. There are also adapted units for students who require wheelchair access or visual alarm.
If you choose to live on-campus at York University's Glendon campus, you will get to be a part of a small, bilingual (English and French) University campus. With only 400 on-campus residents, divided between 2 residence buildings, Glendon offers a unique living opportunity.
Graduate, Mature Students and Students with Family
If you are a graduate student at York's Glendon College, visit Glendon's on-campus housing webpage for more information about on-campus housing options that are available to you.
Many students choose to live off of York's campus, in an apartment or house in the city. Depending on your finances and your personal preferences, it is possible for you to live alone, or with other students as roommates.
Finding suitable off-campus housing can be a difficult task for all students, but because knowledge of the city is required in order to know the best areas for a York student to live, international students are faced with additional challenges.
As a starting point, the neighbourhoods found in the "Downtown" and "Midtown" areas of the city are always popular with York students who chose to live off-campus because of their close proximity to the Yonge-University subway line, and an abundance of student-friendly businesses and housing options. This interactive map of Toronto's neighbourhoods can help you to understand the characteristics of each area.
A listing of some of the available off-campus housing for York University students can be found here. If you desire a more central urban location, student residents for consideration include Neill Wycik Co-operative, Tartu College and Campus Co-op.
Know Your Rights and Obligations
In Ontario, the signing of a 12-month lease is common practice when renting an apartment. Consider if this year-long commitment works with your schedule as an international student.
The Ontario Government's Landlord and Tenant Board's website can provide you with important information about your rights and obligations when renting an apartment in Ontario.
While most landlords are honest, there are people who are willing to take advantage of international students. It is important to make every effort to avoid fraudulent landlords. Descriptions of some of the most common rental scams can be found here.
Note:
York University cannot guarantee the suitability of any off-campus housing and advises students to take caution when leasing non-York housing. We strongly recommend that you visit the neighbourhood during day and evening hours, meet the landlord and inspect the property before agreeing to rent. Taking the time to do so will ensure you are able to make an informed decision about important factors including neighbourhood safety, accessibility, lighting, and maintenance.
On-Campus Housing

Off-Campus Housing

Length of rental

8-month contract (September - April).


Usually rented for a 12-month period

Ownership

Owned, managed and maintained by York University Housing Services. Your resident fees can be paid through your Passport York account.

Owned, managed and maintained by private companies. You must pay them directly.

Accommodation Guarantees

First-year undergraduate students are guaranteed a room in an on-campus residence, provided that you are admitted to York from a full-time secondary school program, and you apply by June 1.

There is no guarantee of suitable off-campus housing and the responsibility of finding and negotiating off-campus housing is the student's.

Meal Plans

A meal plan is required in all traditional-style residences. Students living in suite-style residences with kitchen access may purchase an optional meal plan.


Students who live off-campus have the option of purchasing a meal plan for use while they are on campus.

Application Due Dates

For guaranteed accommodation, apply prior to June 1.

Applications are accepted throughout the summer until space is filled.


Varies by property availability.

Private or Shared Accommodation

Furnished single and double rooms with shared common facilities. First-year students admitted with a 90% average are guaranteed a single room, if they apply by June 1.

Varies by property.
York University offers Meal Plans to meet that needs of all students. A meal plan is required for students who live on-campus in traditional style residences and optional for students who live on-campus in suite-style or apartment housing.
When you select a plan, a pre-paid balance will be added to your YorkU student card. You will then be able to swipe it at any of the many restaurants, cafeterias and cafes on York's campuses and your purchase will be automatically debited from your Meal Plan account.
For detailed information about the various Meal Plans available, visit the Food Services website. With the YU Card, you will not have to pay taxes at the food outlets on campuses which is the HST (currently 13%). At the beginning of the year, Food Services may offer discount coupons at participating outlets.
YorkU's campuses offer a variety of food vendors to choose from. The restaurants, pubs, cafes and food stalls offer foods from around the world.