Instructor & Program Coordinator: Dr. Jessica Vorstermans
jessvort@yorku.ca
Prerequisites: None
Course Dates:
April 27th - May 11th, 2024
Open to Non-Majors? Yes, but screening required for students from Year 1 & 2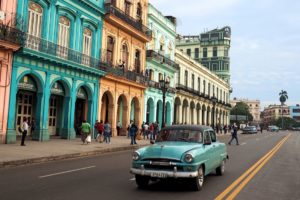 ---
Spend 2 weeks exploring key areas of the right to health, education, art, history, and culture and ways that Cuba has built their social fabric in a way that delivers exceedingly high health outcomes, rooted in a health equity approach.
The commitment to human rights by the Cuban state and society are no paradox or miracle. They are instead the predictable outcome of the ideological foundation of Cuban public policy, embedded in the socialist character of the Cuban state.
This course will take place in Holguin, Cuba in partnership with the University of Holguin and the Medical University of Holguin. We will be learning in many different spaces: at the two universities, in community health clinics, hospitals, cultural sites, historic sites and in exchanges with Cuban students. You do not need to speak Spanish, we will have simultaneous translation for all learning.
Cuba is a country in the Global South experiencing a difficult economic crisis and has been under a brutal embargo by the United States since 1962 (which has been condemned yearly by UN Resolution in which 185 state support and just 2 oppose: in 2022 for the 30th time the UN has rebuked the decades-old US policy). Despite this, Cuba has not wavered in its commitment to health as a human right, health equity and the full development of every Cuban. Come learn about what this looks like in practice from Cuban professors, professionals and workers!
This is a unique opportunity to learn alongside Cubans in how their ongoing revolutionary project is rooted in rights and access for all!
Students will stay in pairs in a casa particular, with a Cuban family in the city of Holguin, eastern Cuba;
We will be visiting and learning in various settings: family medical centres, polyclinics, hospitals, cultural centres, historical sites and more!;
We will be learning from Cuban professors, professionals and culture workers;
Simultaneous English translation provided for all events;
Opportunities for encounters between Cuban and Canadian students;
Accomodations, meals, transportation while in Cuba and excursions are all included in the course;
Click here to see the full Cuba 2024 Course Outline (Coming soon)
Attend the Information Session:
Deadline for application: December 15th, 2023 (places are limited and in a first-come first-serve basis, students will need to fill in the application form and make your payment of deposit by the deadline)"
Program fee: approximately $1500*
Includes:
Accommodation in a host family with all meals
Excursions/Field activities
Transportation from the airport to Holguin and from Holguin to the airport
All transportation while in placement
Not Included
Airfare to and from Cuba
Tuition fee (payable to York University)
Any personal expenses
guard.me® insurance
*Subject to change, program fees will depend on the final number of participants.
To secure a spot in this course, you'll need to submit a non-refundable deposit of $500 to York International.
PLEASE NOTE: You do not need to come to York International Office. All payments will be conducted online. Fill out the Study Abroad Payment Confirmation form to schedule a virtual appointment. We only accept Visa and Mastercard. No cash or cheques.
Deposit ($500) - Deadline: December 15th, 2023
Final payment deadline: February 16th, 2024
All eligible participants of this course will receive the York International Mobility Award (YIMA) of CAD1000 upon completion of the Pre-Departure Training and Travel Risk Requirements. No application is needed.
Attending a Pre-Departure Session is mandatory for all YorkU students participating in the HLST 4170 3.0 Experience Cuba: Enacting the human right to health & health equity. York International provides pre-departure training to York students who are scheduled to participate in global learning programs (exchange, internships and other short-term programs).
Content covered at Pre-Departure Sessions include:
Travel preparations (research about destination, flight, accommodation arrangements)
Risk Management (waiver, emergency contact card, Registration of Canadians abroad)
guard.me® Insurance
Funding and Finances
Inter-cultural awareness
York Students traveling abroad for international programs are required to purchase guard.me® insurance. To ensure safety and well-being of York students traveling abroad, York University has developed a partnership with guard.me® Insurance. It provides comprehensive insurance coverage and benefits that are in the best interest of the students and the university at-large. Guard.me® covers medical, emergency, evacuation, and 3rd party liability, among others. Please read the guard.me® benefit summary for more information. Students must register directly with guard.me®.
---
Frequently Asked Questions
You can try directly with Air Transat, Sunwing, Hola Sun, West Jet and Air Canada. We will also look into a block of tickets through the university's travel agent once we have the final course group.
Guard.me's present daily cost stands at approximately $1.65 (or $2 for USA coverage). Effective January 1st, 2024, a supplementary fee of $45.00 will be introduced for the inclusion of the Crisis Response Membership Program in each policy. Students should contact Guard.me directly for a quote. All policies should be purchased from the date you leave Canada until the date you return (travel dates).
Yes! You need to completed have 18 credits before enrolling in the course (by end of Winter 2024 term).
After you apply, we will contact you to complete a short questionnaire with some questions about your motivations and expectations of the course and experience in Cuba.
The tuition fee will vary based on your student status. For local students, the local tuition fee applies, while international students will be charged the international tuition fee. This course is administered by York University, and the tuition fee structure aligns with that of other 3-credit courses.
Host families are all chosen by the Cuban university and are registered casa particulares. They regularly host tourists and university students. As for choosing who will stay with which host family, you will choose your roommate in the orientation process and then the Cuban university will select which host family you stay with.
Some students might choose to stay longer, or go earlier to travel. You could coordinate that together (or on your own) once we have the final group selected. Transportation is really difficult in Cuba now because of the fuel shortage, so there is that to consider! You will have a weekend off in the middle, so you can choose what you want to do with that time. Any additional transportation for travel or activities is not included and you would need to pay on your own.
It will be hot but we will be at the university and in places like hospitals and clinics and our Cuban partners are be clear in us dressing professionally - we will talk about all of this in the course orientation.
You will need to be at the airport in Holguin on April 27th (flying in from Toronto, or another place if Toronto is not your home) and we will all get on a bus to take us into the city & drop us off at the host families. If you are flying in on an earlier date, you will then need to meet us in the city centre on April 27th.
All of these topics and more will be covered in out pre-departure orientation!
---
Information Session recording
Please continue to check in for more information about Summer 2024.
For further information, please contact
Shirley Lam
International Programs Coordinator
yuabroad@yorku.ca