| | |
| --- | --- |
| Instructor: Dr. Patrick Alcedo: alcedo@yorku.ca | Prerequisites? None |
| Course Dates: TBD | Open to Non-Majors? Yes |
Course Overview
In this summer abroad course, we explore the complexity of the colonial history, geographical make up and postcolonial predicament of Philippine culture. Through the dances that will be taught, this course will embody the wide array of cultural and historical influences that have defined the Philippines and its diaspora today.
While learning about the country's history, culture, politics, material conditions and other related expressive cultures through lectures, students will also have the opportunity to see the culture through activities and excursions in and around Manila, the capital of the Philippines. In taking this course and learning the dances, students can reflect upon how Filipinos have negotiated their everyday lives, the outside, and various forces that have entered their locales.
Program Highlights:
Learn a variety of different Philippine folk dances
Learn to extend, amplify, and challenge your body by dancing with props, in group, and with a partner
Work with internationally recognized dance groups like the University of the Philippines Filipiniana Dance Group
Meet scholars of dance and Philippine Culture at various universities in the Philippines like Ambeth Ocampo
Take this course at your level!
If you're taking this course at the 2510 level, you will be assessed by the following:

Daily Travel Journal
3 Dance Showings
2 Classroom Assessments

As 4510 students, you are to take leadership in learning one Philippine folk dance on your own, outside the repertoire taught in class. You are to present this dance, which will be part of your final showing and studio work, at the end of the course.
As 3510 students, you will help embody the dance with the 4510 students, you are to use resources found online, in the library, or even within the Filipino community. You are to organize yourselves into groups and should consult with the Professor about the dance you have chosen to show at the end of the term.
Learn more about Professor Patrick!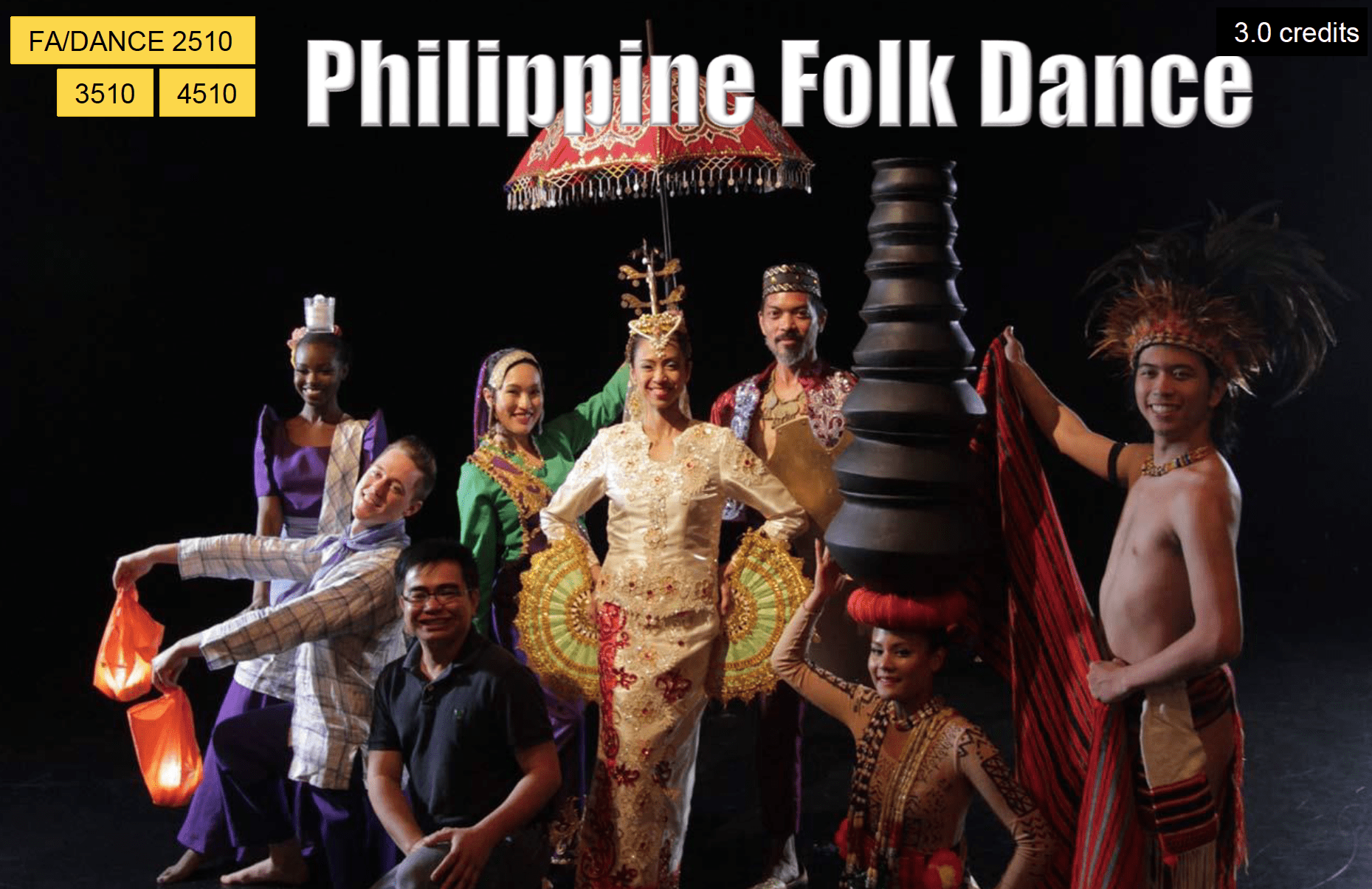 Program fee: Summer TBD
Includes:

Accommodation
Excursions/Field activities

Not Included

Airfare to and from the Philippines
Tuition fee (payable to York University)
Any personal expenses including meals

guard.me® insurance
*Subject to change, program fees will depend on the final number of participants
Deposits and Deadlines
To secure a spot in this course, you'll need to submit a non-refundable deposit of $500 to York International.
PLEASE NOTE: You do not need to come to York International Office. All payments will be conducted online. Fill out the Study Abroad Payment Confirmation form to schedule a virtual appointment. We only accept Visa and Mastercard. No cash or cheques.
Deposit ($500) - Deadline:

January 12th

Final payment deadline:

February 16th



Financial support
All participants of this course will receive the York International Mobility Award (YIMA) upon completion of the Pre-Departure Training and Travel Risk Requirements.
Expression of Interest
This is a summer abroad course and seating is limited to 25 students. Open to non-majors by permission of the course director, Professor Patrick Alcedo. Please contact Shirley Lam (yuabroad@yorku.ca) to express your interest. Please note that your spot is only secured after payment of deposit.
Pre-Departure Training and Risk Management Information Session
Attending a Pre-Departure Session is mandatory for all YorkU students participating in the FA/DANCE 2510/3510/4510: Philippine Dance. York International provides pre-departure training to York students who are scheduled to participate in global learning programs (exchange, internships and other short-term programs).
Content covered at Pre-Departure Sessions include:
Travel preparations (research about destination, flight, accommodation arrangements)
Risk Management (waiver, emergency contact card, Registration of Canadians abroad)
guard.me® Insurance
Funding and Finances
Inter-cultural awareness
York Students traveling abroad for international programs are required to purchase guard.me® insurance.To ensure safety and well-being of York students traveling abroad, York University has developed a partnership with guard.me® Insurance. It provides comprehensive insurance coverage and benefits that are in the best interest of the students and the university at-large. Guard.me® covers medical, emergency, evacuation, and 3rd party liability, among others. Please read the guard.me® benefit summary for more information. Students must register directly with guard.me®.
More information on registration will be outlined in the link below.
http://yorkinternational.yorku.ca/go-global/pre-departure-training-and-risk-management/
Please continue to check in for more information about Summer 2024.
For further information, please contact:
Shirley Lam
International Programs Coordinator
swhlam@yorku.ca
yuabroad@yorku.ca