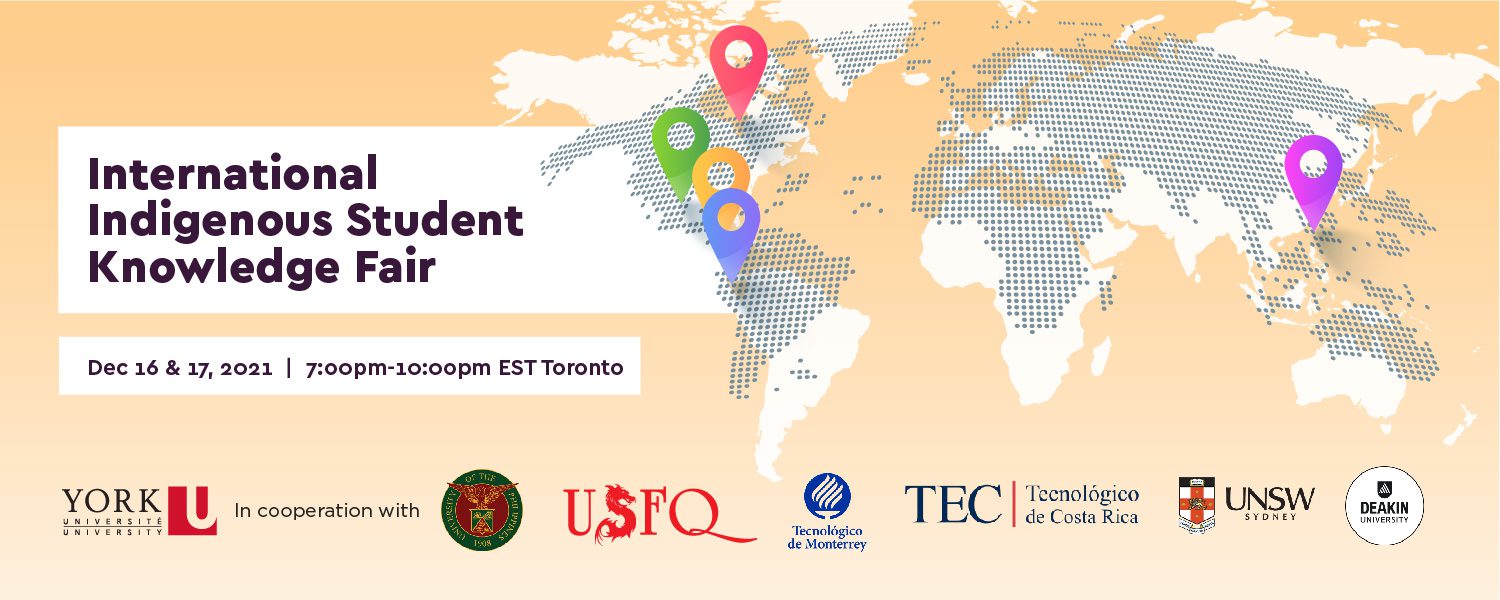 Join us for the Knowledge Fair on December 16th and 17th ! This two-day virtual showcase will spotlight and encourage respectful engagement with students on their culminating projects for the International Indigenous Student Exchange Program.
Understanding that Indigeneity transcends regional and national contexts, the sessions in the Program covered topics such as Indigenous knowledge systems, language and cultures, the land, gender, disrupting colonial spaces and re-indigenization, spirituality and current issues that Indigenous students and communities face in Canada and around the world.
We invite you to review the following resources and join us in listening to and engaging meaningfully with the students' projects.
Content Warning: Some of the content shared may contain references to colonial violence (including but not limited to physical, sexual, gender-based, and emotional violence), abuse, and anti-Indigenous racism, amongst other forms of discrimination which may cause distress. If you are experiencing distress, please reach out to appropriate support people in your networks. We will be including some resources for Indigenous attendees in the event platform.
Day 1 - December 16, 2021
Day 2 - December 17, 2021
Project Title

Videos

The Impact of Social Media on Indigenous Identities

Jhurdan Pilay, Lyndon Akiwenzie, Daniel Podnar

La Música Como Sanación / Music As Healing

Diego Ivan Regalado Hernandez, Gabriela Aguilar, Daily Valeria Toval Díaz

Indigenous Languages in the Fourth Industrial Revolution (Website)

Alyssa Argueta-Hinkson, Maria Jesusa Leonardo-Gambulao, Moises Salguero Morales, Taine Martin

TAKING BACK TONGUES: Indigenous Language Survival and Revitalization in the Modern Canadian and Philippine Contexts

Julienne Bacagan, Ruth Darylle Pugong, Virginia Barter, Dona Bullong, Star Laford

Indigenous Gender and Sexuality Around the World

Martina Bautista, Emma Litschko, Julie-ann Christian, Victor Daniel Navarro Zapata

Disrupting Colonial Spaces: @decolonial.her Instagram page

Alice Bellette, Autumn Epple, Amy House, Ximena Matías Mercado
Resources for Engaging in the Webinar:
In order to engage meaningfully and respectfully with the content that the presenters are sharing, which draws upon lived experience, it is important as a non-Indigenous member of the audience for you to address your gaps in knowledge on Indigenous Peoples. The following resources are important in contextualizing your questions and reactions during the webinar, as they will directly affect Indigenous presenters and attendees.
Note: these resources are based on Settler and Indigenous relations in Canada. If you're located outside of Canada, we also encourage you to find the resources specific to your context.
Address your gaps in Knowledge
Open Online Courses to learn about Indigenous Peoples
National Centre for Truth and Reconciliation 
The National Centre for Truth and Reconciliation (NCTR) includes digital copies of important and relevant reports on how ongoing colonization has and continues to affect Indigenous peoples, communities, and nations. For Settlers, these are important to understand how the settler colonial structures have and continue to impact Indigenous Peoples based in Canada.
Further learning:
Before asking questions, start with reflections:
What are your current relationships with Indigenous folks, communities, nations? Where are your gaps in knowledge?
Think about the existing resources in your institution.

Are they recognized as being supportive by Indigenous peoples?

Find out where to ask questions in a respectful manner
Resources for Indigenous Presenters & Members of the Audience
At York University:
Other Resources
Web resources
Anishnawbe Health Toronto

https://aht.ca/our-services/

Native Women's Resource Centre Toronto (NWRCT)

https://www.facebook.com/nwrct

Métis Nation of Ontario Community Support Services

https://www.metisnation.org/programs-and-services/healing-wellness/community support-services-program/

Native Canadian Centre of Toronto

https://ncct.on.ca/

Na-Ma-Res (Native Men's Residence)

https://www.nameres.org/about/

Indian Residential School Survivor Society

https://www.irsss.ca/



Help Lines
Hope for Wellness Help Line for Indigenous Peoples across Canada: