When:
2020-06-19T00:00:00-04:00
2020-06-20T00:00:00-04:00
Contact:
York International
416-736-5177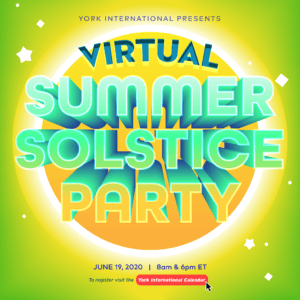 Missed the first-ever Virtual Spring Party at York University? York International is throwing another virtual party on Zoom! This 2 hour fun-filled party is a great way take a break at this halfway point in the Summer Semester and get to know the York Community. 
And just like the Virtual Spring Party, this event will serve as a showcase of the enthusiasm, spirit and energy York has to offer, and acknowledge and congratulate York students for things they have done during the COVID-19 pandemic, whether they are on the front lines, giving back to their community or helping to flatten the curve by staying home.
Details
We will be celebrating at two time periods on June 19th to include those who are currently abroad.
You can RSVP to the Virtual Summer Solstice Party at 8:00-10:00am ET on Friday, June 19, 2020 or
you can RSVP to the Virtual Summer Solstice Party at 6:00-8:00pm ET on Friday, June 19, 2020
Once you've RSVP'd, you will receive a unique link and password to join our event. Can't wait to see you there!
This is a quick recap of the previous Virtual Spring Party!
https://www.instagram.com/p/CAGPHV0hp4c/?utm_source=ig_web_copy_link
Dance With Us!
The event will feature a dance lesson from Athletics and Recreation, fun activities to get to know each other, and much more. Want to be TikTok famous? Come learn some popular TikTok dances.
Guest: Alexandria Magee
Karaoke
Sing your heart out during Karaoke with York students and alumni! A great way to bond over music and have a good time.
Learn Summer Recipes
Nothing is better than enjoying a refreshing drink in this hot summer. Join us for a creative summer drink and dessert-making class.
Here are some recipes we will be making:
Ingredients:
4 fresh strawberries halved
1/4 lemons
1/4 cup sugar or to taste
Water
Ice
Instructions:
Place strawberries and 1/2 cup of water in a blender. Blend until smooth and strain using a fine-mesh strainer. Juice the lemons. In a small jar, combine sugar and 1/2 cup water. Shake until sugar is completely dissolved.
In the pitcher add strawberry juice, lemon juice and the sugar mixture. Fill the picture with ice.
Add 1/2 cup of cold water and stir.
Add more sugar mixture if desired. Serve cold.
View the original recipe here.
Ingredients:
Frozen strawberries, or any other kind of fruits
Banana
Milk of your Choice (Regular milk, almond milk, soy milk, oat milk)
Ice
Instructions:
Add all ingredients to a blender.
Blend. If your smoothie seems too thick, add in a bit of extra milk or water. If it seems too thin, add in more in banana.
Then pour the smoothie into a serving glass or two…and enjoy!
View the original recipe here.
Ingredients:
1/2 cup milk of your choice
1/2 cup cream (can use milk instead)
1/4 cup sugar
1/2 teaspoon vanilla extract
1cup rock salt
Ice
Instructions:
Add 1/2 cup whole milk, 1/2 cup cream, 1/4 cup sugar, and 1/2 teaspoon vanilla extract to a mixing cup and stir until well combined.
Add the mixture to a small zipper bag. Shake for 5 minutes.
Use need another zipper bag, one that is much larger than the bag with your ice cream mix in it. And fill that bag with a couple of handfuls of ice and about half of the rock salt.
Now place the smaller bag inside the larger bag. Cover it with more ice and rock salt.
Wrap the bag in a towel and shake it for 5 minutes or until the liquid in the smaller bag turns into ice cream.
View the original recipe here.
Watch the YouTube video here.
& more fun activities. See you there!
Here are some of our tips to get into the party mood:
1. Worried you might feel shy? Invite your friends! 
Virtual parties might seem daunting if you're not sure who else is going and how to introduce yourself if you don't know anyone! Make this party your own by inviting your fellow York friends and classmates to hang out and reconnect!
2. Think about your party snacks
Perhaps one of the best things about virtual parties is that you can decide the food and drinks! Order in or prep your favourite party snacks ahead of time to get you excited. Tag @yorkugoglobal or @yorku_intl with the hashtag #YUVirtualParty to tell us what you got cooking!
Here are some summer party snack ideas:
3. Dress to the Nines!
We all know of an outfit that makes us feel ready to conquer the world. Take this party as a chance to get out of those quarantine sweatpants and into that outfit! Get ready for your favourite pump-up playlist and feel great about how you look! Follow the hashtag #YUVirtualParty for some fashion inspiration and add your own!
4. Prepare your space! 
Set the decorations and lighting in your space to match the party mood. You could also upload photos to your Zoom Account or use our Virtual Summer Solstice Party Background and use the Virtual Background to make it feel like a true party. Visit this website for guidance on Zoom Backgrounds.
5. Practice your dance moves!
Want to practice the Tik Tok dances before the Virtual Party?  Here is a list of some we will be learning:
6. Get into the Spirit!
Follow the hashtag #YUVirtualParty on Instagram, Twitter and Facebook to see what your fellow students are doing to get ready for this celebration. We want to see your Spirit!