< Return to Main GNL Page

As of Fall 2020, there are 7 GNL Projects from the Faculty of Liberal Arts and Professional Studies, the Faculty of Health, and Glendon. GNL is a pedagogical approach that connects York classrooms with other classrooms and communities abroad through collaborative projects and frameworks, design projects, research, and dialogues with students and faculty.
If you are a faculty member interested in the GNL approach, we encourage you to review the Faculty Toolkit and join us at the GNL drop-in sessions on November 9 & 16, 2020! You can also contact the GNL team for any information and supports you need for your GNL ideas.
GNL-Enhanced Courses:
Click on each course title to learn about the course and how the GNL approach was implemented.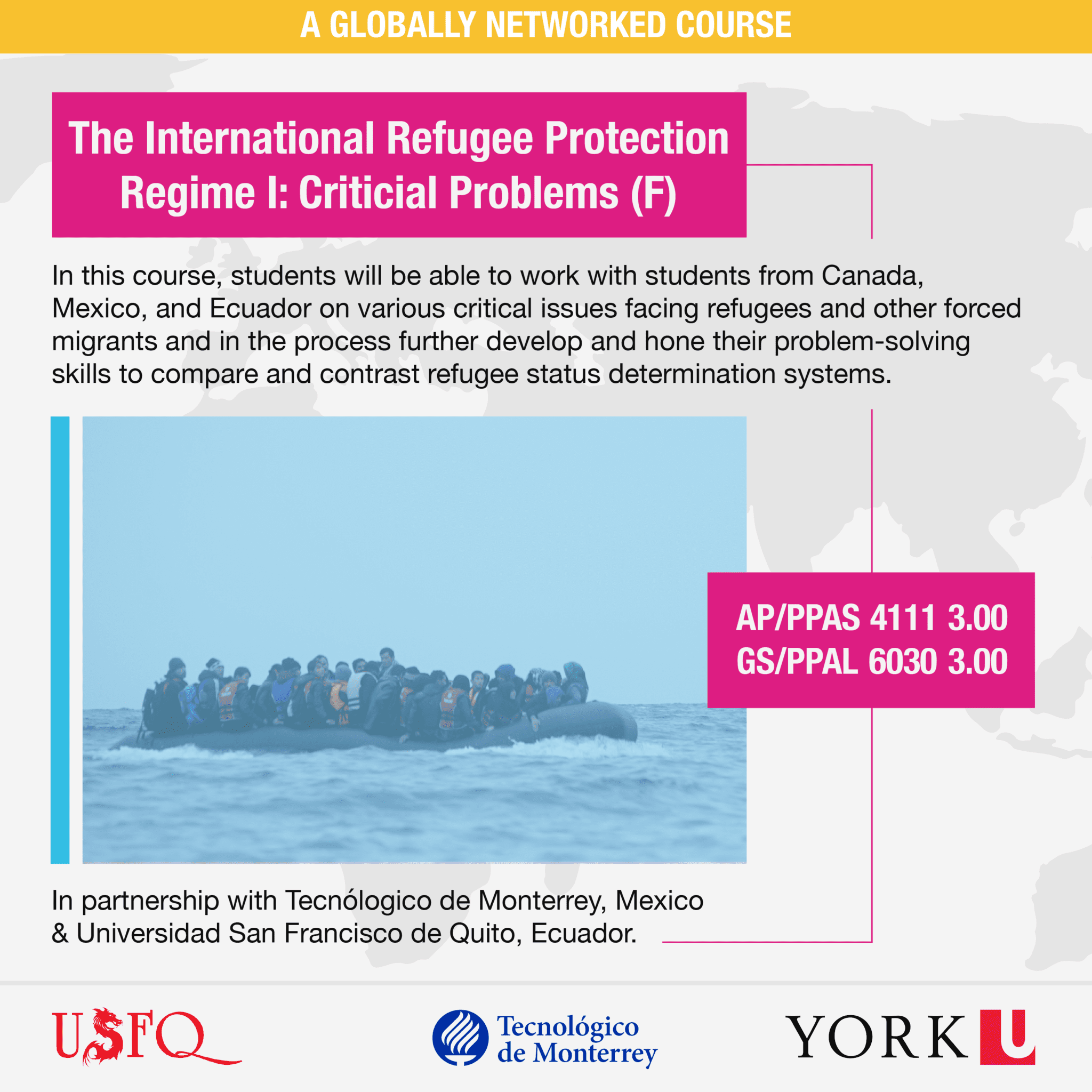 AP/PPAS 4111 & GS/PPAL 6030 3.0 (Fall 2020)
Course Director: James C. Simeon
In partnership with Technologico de Monterrey, Mexico, and the Universidad San Francisco de Quito, Ecuador.
Course Description: Using multi-disciplinary analytical perspectives, the current state of the international refugee protection regime will be examined to reveal the underlying forces and dynamics at the root of the critical problems and the probable solutions facing those seeking international protection.
GNL-Components: Students will be able to have a better appreciation and understanding of the refugee and migration issues and concerns internationally as well as, specifically, in three countries: Canada; Mexico; and, Ecuador; that is, from North America and, South America. Students will be able to work with students from three different countries on various critical issues facing refugees and other forced migrants and in the process further develop and hone their problem-solving skills.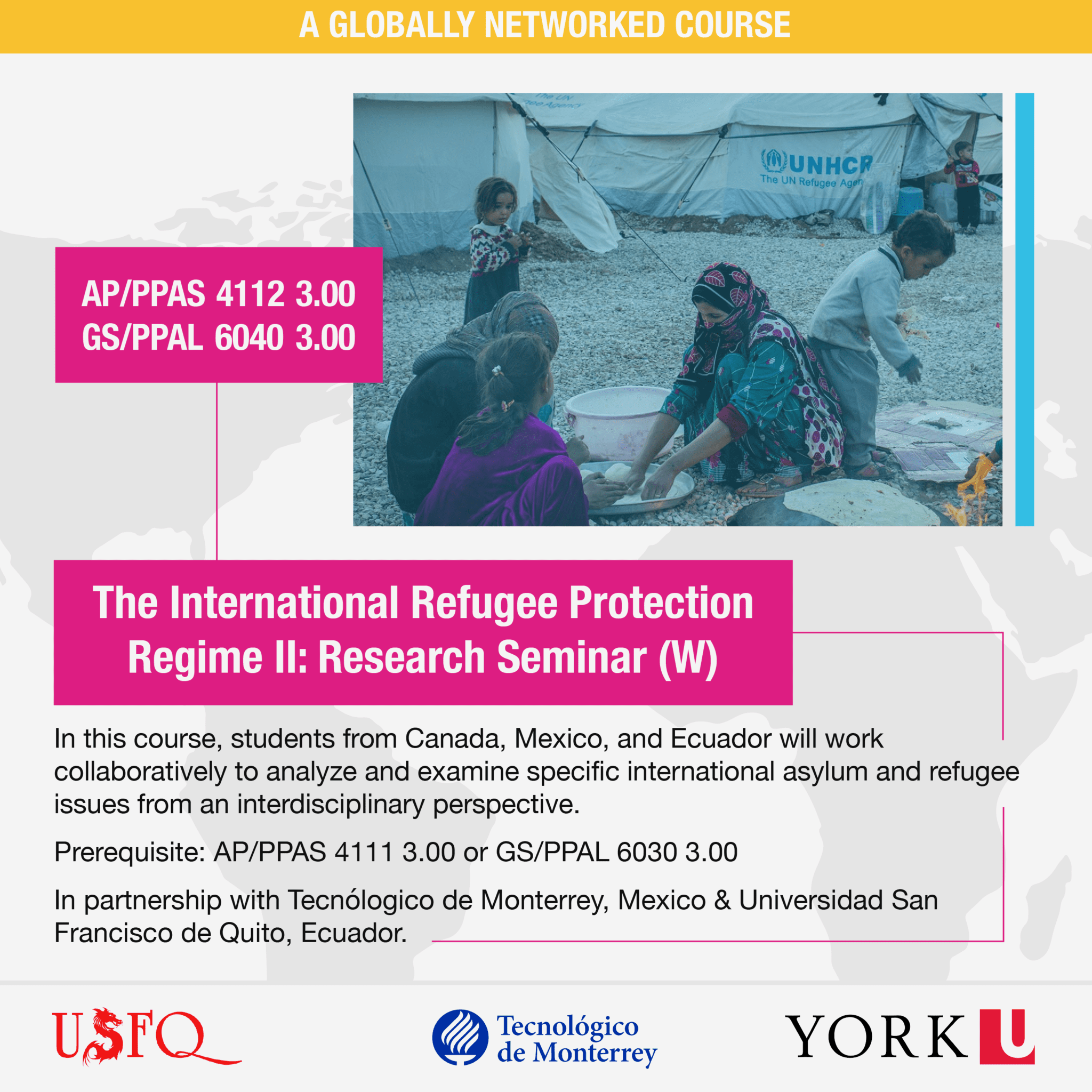 AP/PPAS 4112 & GS/PPAL 6040 3.0 (Winter 2021)
Course Director: James C. Simeon
In partnership with Technologico de Monterrey, Mexico and the Universidad San Francisco de Quito, Ecuador.
Course Description: Analyzes and examines specific international asylum and refugee issues from an interdisciplinary perspective. Students will conduct independent research on international asylum and refugee issues and will have an Experiential Education opportunity with an organization working with refugees. Prerequisite: AP/PPAS 4111 3.00.
GNL-Components: The refugee and migration issues and concerns vary dramatically across and within these three countries. For instance, the Canadian refugee status determination (RSD) system is different from either the Mexican or the Ecuadorian systems. Students will be able to compare and contrast how the RSD systems are structured and function in these three countries and how refugee law and practice works on a transnational basis. And, in the process, be able to analyze and evaluate the respective RSD systems with respect to how fairly, effectively, and efficiently they handle refugees' applications for refugee protection.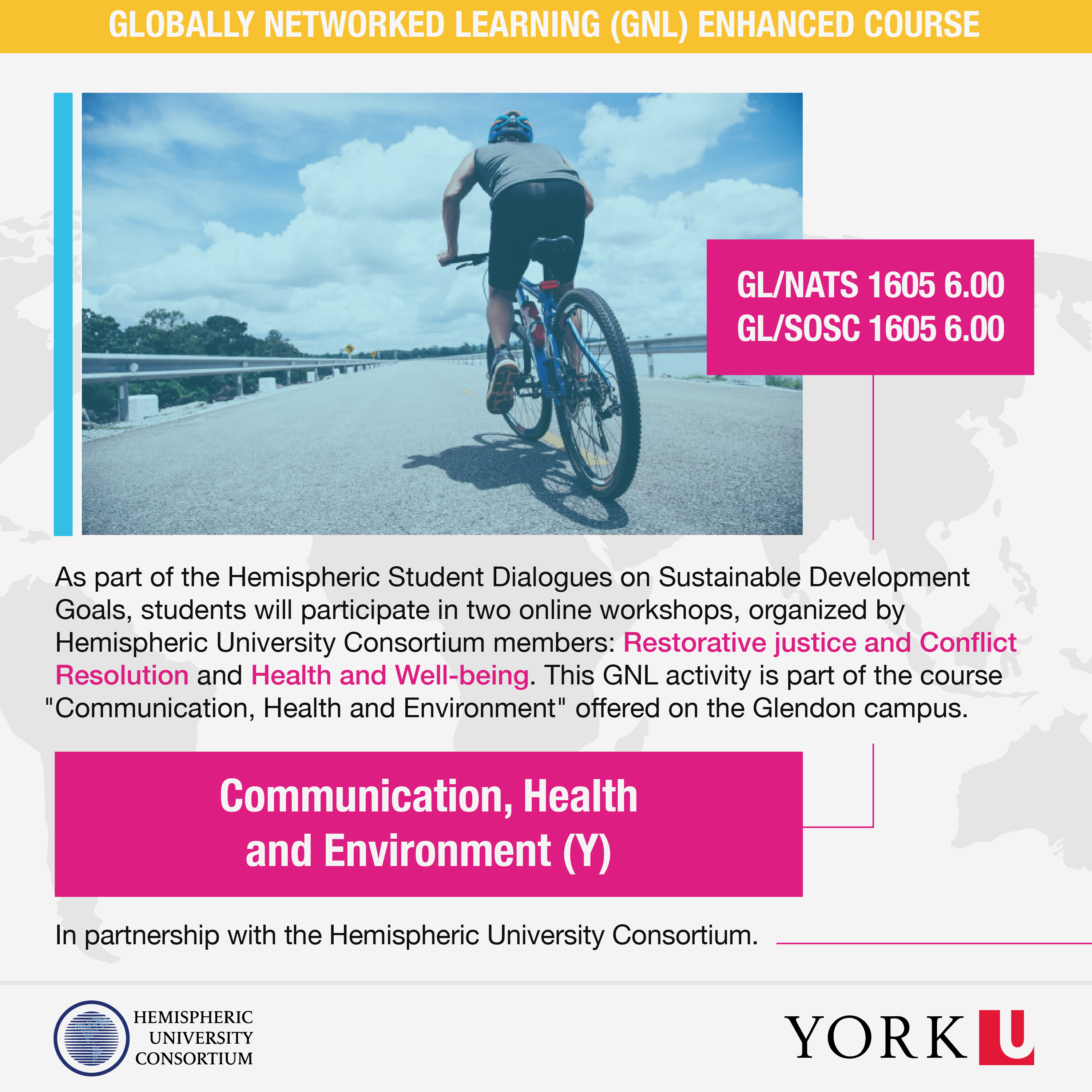 NATS/SOSC 1605 6.0 (Fall/Winter 2020-21)
Course Director: Charles-Antoine Rouyer
In partnership with Universidad San Francisco de Quito (USFQ), Ecuador and Université Catholique de Lille, France.
Course Description: This course connects the three areas of communication, health and environment by exploring the interrelationships between human health and the health of natural and socio-economic environments. It also addresses the influence of mass communication in relation to public policy pertaining to human and ecosystem health. Throughout the course, the sustainability concept is used as a guiding principle.
GNL Components
Fall Term: Students will participate in Hemispheric Student Dialogues on SDGs hosted by the Hemispheric University Consortium and USFQ to explore the connection between natural sciences and social sciences when dealing with the Sustainable Development Goals.
Winter Term: Canadian students will then work with French students during the early Winter 2021 term, to illustrate visually some of the key concepts studied. The deliverable will be a visual production, which could be part of a one day "Sustainability Festival" in Lille in late March.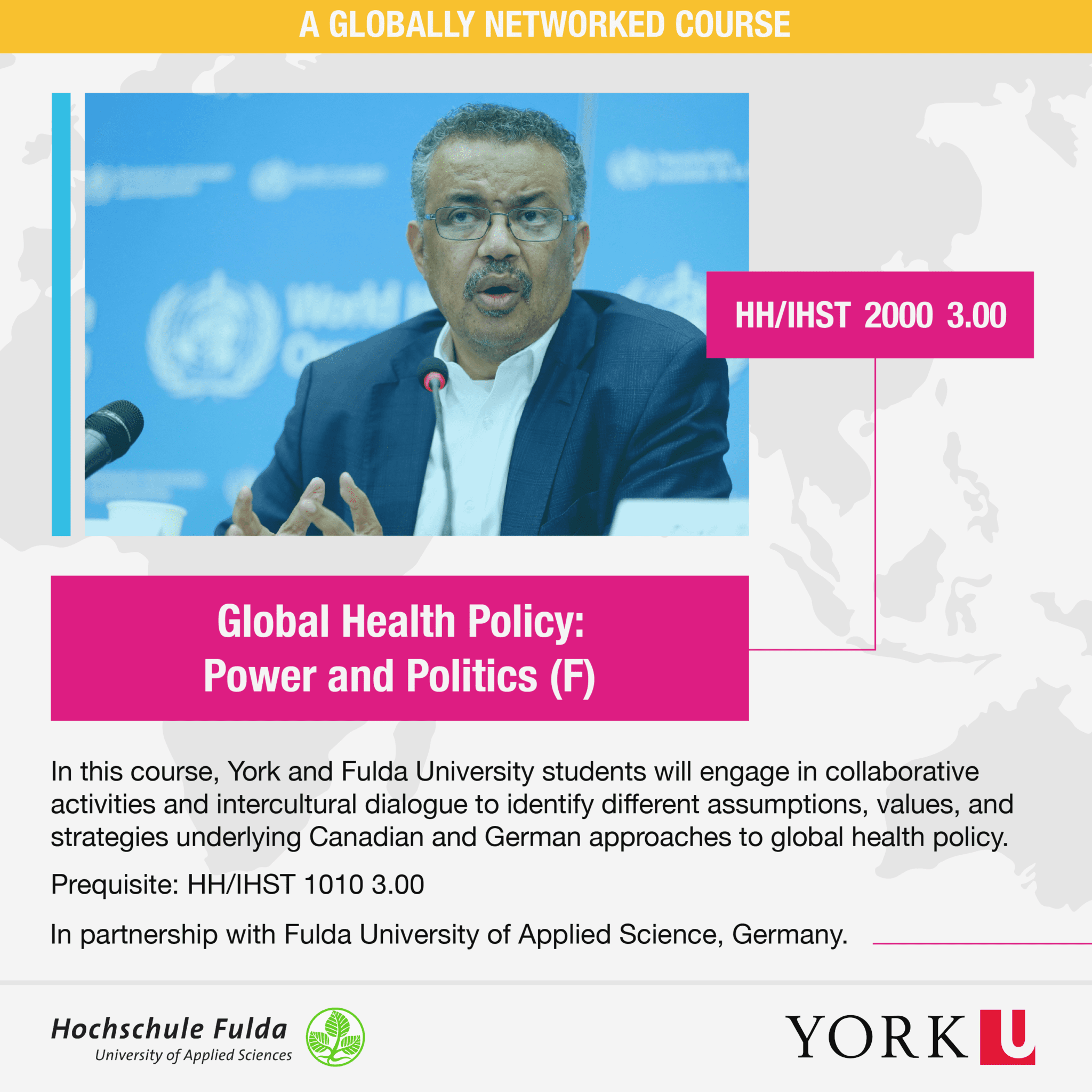 IHST 2200 (Fall/Winter 2020-21)
Course Director: Mathieu Poirier
In partnership with Fulda University of Applied Sciences, Germany.
Course Description: Analyzes the process through which global health policy is developed. As national and global initiatives can intertwine, the course begins by exploring and categorizing the manner in which nation governments are structured, and the factors that influence the process of policy decision-making at the national and global levels. Explores case studies that demonstrate global health policy development. Prerequisite: HH/IHST 1010 3.00
GNL Components: Each of the three course directors (one at York and two at Fulda) will create asynchronous guest lectures accessible to co-learners in both universities focusing on a global health policy topic that draws on their expertise and research area. Group discussion activities will be assigned for every co-learning week to foster intercultural dialogue identifying different assumptions, values, and strategies underlying Canadian and German approaches to global health policy. Finally, an international collaborative group project will allow students from both universities to work together to produce an tangible product focused on a specific aspect of global health policy response to COVID-19, drawing on both their lived experiences in Germany and Canada and the shared lecture content.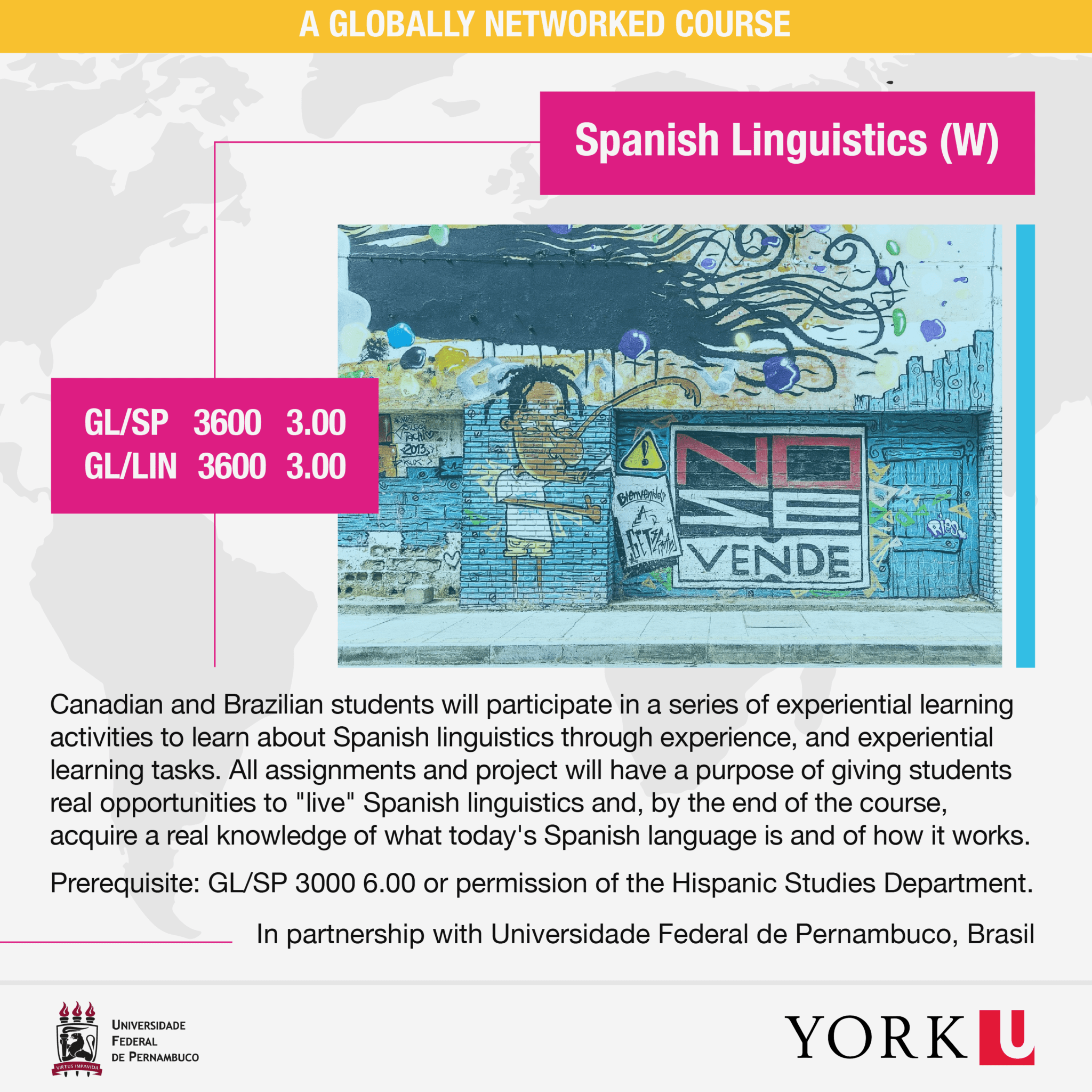 GL/SP 3600 3.00 (Winter 2021)
Course Director: Jerzy Kowal
In partnership with Universidad Federal de Pernambuco, Brasil.
Course Description: This course will examine the linguistic structures of the Spanish language: its sound system (phonetics and phonology), its word formation morphology), sentence structure (syntax) and varieties of Spanish (historical, social and regional).
GNL Components:The courses will consist or 12 weeks of interactive lectures, where students will participate in a series of experiential learning activities to learn about Spanish linguistics through experience, and experiential learning tasks. Furthermore, all assignments and project will have a purpose of give students real opportunities to "live" Spanish linguistics and, by the end of the course, acquire a real knowledge what is today's Spanish language and of how it works.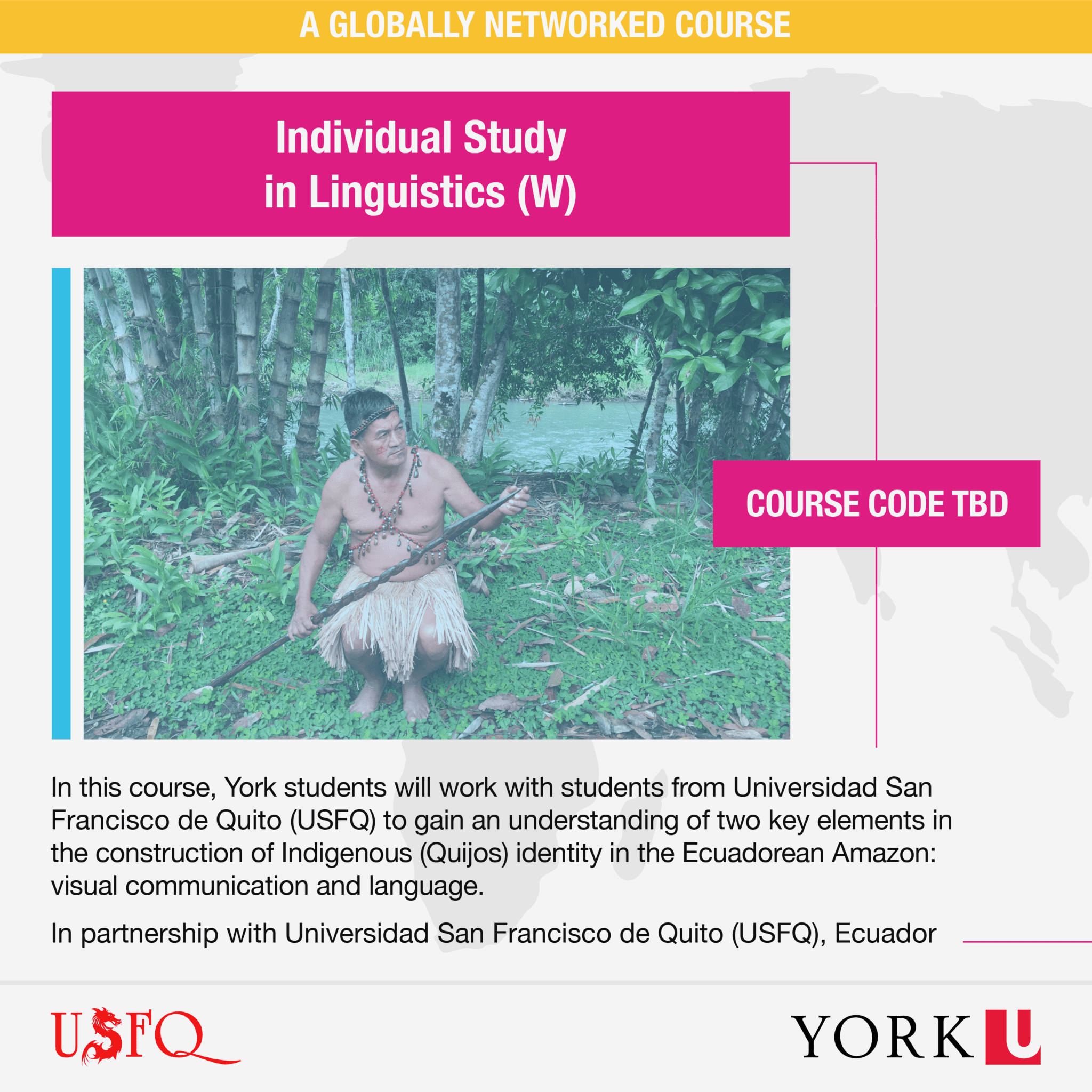 Course Director: Ian Martin
In partnership with Universidad San Francisco de Quito, Ecuador.
Course Description: In this course, students will gain an understanding of two key elements in the construction of Indigenous (Quijos) identity in the Ecuadorean Amazon: visual communication and language. They will also gain linguistic fieldwork experience and develop their digital storytelling skills (scripting/shooting/editing) to gain an appreciation of the role of video/film communication in the construction of Quijos identity.
GNL Components: Students will spend one week preparing online with participation from Ecuadorean partner university faculty. They will then travel to Ecuador to complete the field work: one week preparation with members of the Quijos nation and preparing scripts for video; one week in the field, on Quijos territory filming; one week back in Quito editing and finalizing the project. Glendon students will document their participation by video and text.
Fall/Winter 2021-22
Course Director: Marlon Cabrera Valencia
In partnership with Universidad Distrital Francisco José de Caldas, Colombia.
Course Description: The teaching and learning of English as an additional language has historically favored the (monolingual speaker-without interference from any other language) native speaker as the idealized model of language competency (AKA native speakerism).
GNL Components: In this course, York teacher candidates will have the opportunity to learn from/with Colombian teacher candidates and Ph.D. students working with a critical applied linguistics orientation to decolonize English language practices such as native-speakerism. There will also be a new practicum site where Canadian English-speaking student-teachers can learn from Colombian non-native speaker English teachers for their practicum.