Mr. Jose Dominick Santos Guballa, a Filipino Ph.D. student in Earth Sciences at the University of Toronto, held a talk on "Taal and Other Philippine Volcanoes: An Overview" at the premises of the Philippine Consulate General in Toronto on 12 February 2020.
In his welcome remarks, Consul General Orontes Castro explained that the talk is part of the Consulate's information campaign for the Filipino Community in Ontario on important developments in the Philippines, such as the recent eruption of Taal Volcano and its impact on society.
Philippine Consul General Orontes Castro delivers his Welcome Remarks on the talk by Mr. Dominick Guballa on "Taal and Philippine Volcanoes: An Overview" (Photo by PCG Toronto)
Mr. Guballa provided a general overview of the scientific reasons for the existence of volcanoes in the Philippines, causes of volcanic eruptions and difficulties in predicting such eruptions, the prevalence of earthquakes in the country, the concept of tectonic plates, a brief history of known eruptions of Taal Volcano dating back to 1572, and the excellent work of the Philippine Institute of Volcanology and Seismology (PHIVOLCS) in monitoring and disseminating important information about the Taal eruption to communities near the volcano and the general public.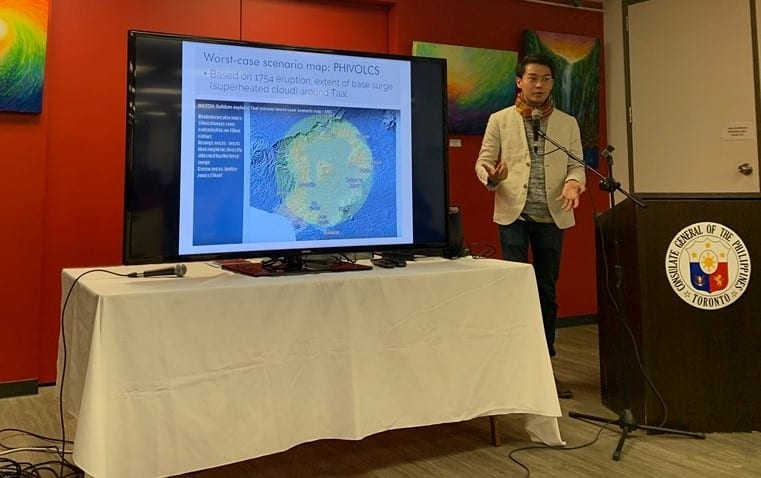 Mr. Guballa delivers his talk on volcanoes in the Philippines at the Philippine Consulate General on 12 February 2020. (Photo by PCG Toronto)
The event was attended by Filipino-Canadian community leaders and members, particularly those from provinces with known active volcanoes, e.g., Mayon Volcano in Albay, officials from PCG Toronto and attached agencies, the clergy and academics from York University. Most of them expressed appreciation for the important scientific information on volcanoes, specifically on Taal Volcano, that were clearly explained by Mr. Guballa.

Consul General Orontes Castro (5th from R) and Mr. Dominick Guballa, Guest Speaker (6th from R) are joined by Deputy Consul General Edna May Lazaro (1st from L), Consul Edwin Gil Mendoza (2nd from L), Mrs. Monina Lim-Serrano, President, Federation of Filipino-Canadians-Ontario, (3rd from L), Dr. Eric Kennedy, Assistant Professor at York University, Earl Francis Dacara, President of the Bicol Canada Community Association (BCCA) (3rd from L), and other members of the Filipino-Canadian community in Toronto.