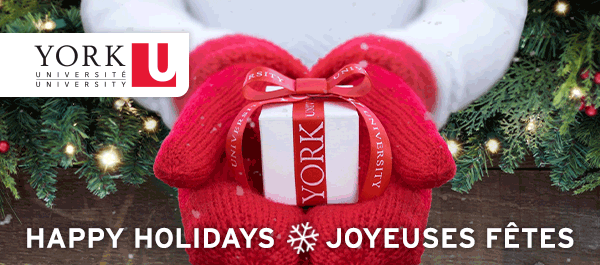 Congrats on finishing up your Fall Term! After all your hard work, putting in countless hours studying, writing papers, labs, midterms and finals while balancing it all with work, friends, staying healthy and other responsibilities, you deserve rest, relaxation and fun over the Holiday Break.
We're so excited we got to meet so many international and exchange students over the term during our events like International Student Orientation, Exchange Orientation, The President's International Student Reception, the Halloween Party, Coffee Breaks and the York International Holiday Party. It's been a fun-filled term so far and we can't wait to meet even more of you in Winter Term!
Missed out on these events? No problem! Follow York International on Facebook or join our York International Global Community Facebook group or follow us on Instagram to see photos from past events and learn about future events.
We'll also have more workshops on Study Permit extensions, Permanent Residence, Post Graduation Work Permit and more. New for 2020, we'll be offering workshops in French and Mandarin. Follow us on Twitter, Instagram or Facebook to find out when these workshops will take place.
Don't forget that the University is closed from December 21 to January 5, including York International. But don't worry, whether you're staying in Toronto, heading home or going on an adventure for the Holidays, our website has some key info and resources for you! You'll find info on:
YI Holiday Break events and resources

Staying in town over the Break? Check out our Winter Holidays page! You'll find info on:

tips on dealing with the Winter Blues,
what's open on Christmas and New Years,
safety tips,
emergency contacts
…and so much more!

Check out our Winter Holiday events! Join us for a few trips around Toronto:

December 21: Christmas Market at Distillery District
December 28: Ice Skating at Harbourfront
January 2: Aurora Winter Festival at Ontario Place

Documents you'll need for travelling during the Holidays
Here's some more info you might need this December and beyond!
Are you in first year? Did you miss out on International Student or Exchange Student Orientation in August/September? Register for our January International and Exchange Student Orientation to meet other International and Exchange students like you! Register today!
Did you know that in addition to English, our York International staff speak Mandarin, French, Spanish, Korean, Hindi, Urdu, Punjabi and more?? Just our two International Student Advisor and Immigration Specialists - Amy Ahn and Samantha Yan, speak Mandarin, French, Spanish and Korean! Come ask them questions during their Drop In Advising Hours!
Are you in Engineering? Here's some info just for you!
Join the Lassonde International Peer Helpers for their International Student Holiday Celebration on Thursday December 19th from 1:00-4:00pm in Bergeron 125. Play board games, make holiday crafts and watch holiday movies. Hot Chocolate and treats will be provided. Come to relax and celebrate the end of exams and the holiday season!
From all of us at York International, a huge thanks to all of you for such a great term.
Happy Holidays and we'll see you in 2020!
-The York International Team