York International is pleased to welcome Brazilian science students to York as a part of the Science without Borders/Ciência sem Fronteiras (CsF) program.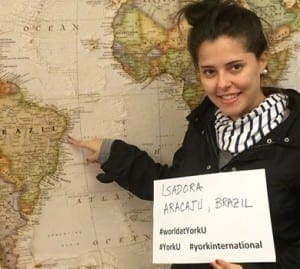 Science without Borders was implemented in 2011 as a joint program between Brazil's Ministry of Education and the Ministry of Science and Technology as a way to encourage Brazilian undergraduate and graduate students to study science, technology, engineering and mathematics in foreign countries.  If you are a university student from Brazil who is studying in one of these fields, you are eligible to apply to the CsF program.  If accepted, you will receive funding that will pay for your tuition, travel, housing and living expenses. Detailed information about Science without Borders/ Ciência sem Fronteiras can be found on the program's official website. (English/Português).
York International is here to help all international students make a smooth transition to life at York and in Canada, as well as to assist with academic and immigration-related issues that may arise. Please contact us  with any questions that you may have about the Science without Borders program and visit us in person once you arrive at York. Our office is located at 200 York Lanes, on York's Keele Campus.
If you have been accepted to our Science without Borders program at York University check out our current:
CsF students Facebook page.

Steps to Apply for the Science Without Borders Program:
Apply for a scholarship through your home university and the Instituição de Ensino Superior (IES) in Brazil and complete an online application on the Ciência sem Fronteiras website.
Once you receive notification that your scholarship application has been successful you will be contacted by CBIE and can begin the second step in the application process: the Canadian university placement application.
Upon acceptance into CsF and York University, you will be given a student number and can then begin the process of enrolling in courses and preparing for your studies in Canada.
Note:
If you are a Brazilian student who is interested in participating in the Science without Borders program, visit the official website for complete information about the application process.  The Canadian Bureau for International Education (CBIE) administers the program in Canada and addresses many common questions about eligibility and the application process on their website.
Undergraduate Programs at York University
On your CBIE application to York University you will be asked to state your program of interest. For a complete list of all undergraduate programs offered at York University please click here.
Note:
Students interested in a "computer" area of study have five program options at York University. Below is listed IELTS score requirements; for an equivalency of other acceptable scores, please see here.
Pharmacy/ Medical students will be considered for the Faculty of Science (Life Sciences)  or the Faculty of Health  (IELTS of 6.5 is required)
Environmental is offered Faculty of Science: Environmental SCIENCES or Faculty of Environmental Studies: Environmental STUDIES . (IELTS of 6.5 is required)
Nursing: students will not be accepted for the academic year 2015/16.
At York, all course selection is done online through your Passport York account. If you have not activated your account yet, you will need to do this before choosing your courses. Passport York  is York University's secure online portal that will allow you to access York University's online services and tools. Logging in to your Passport York account is York University's primary method of online authentication, and will be used frequently while you study at York.
Your Passport York account will allow you to:
Select courses
Pay fees
Review grades
Review/renew library loans
View you student financial account
Check your enrolment date
Download your T2202 tax form
Change your address and contact information
Vote in York elections with EVote
…and much more
Steps to Activate Your Passport York account:
Click on the "New Student Sign Up" link.
You will be asked to enter your student number (your student number is listed on your offer of admission) and date of birth.
Follow the steps provided.
You will be asked to give yourself a Passport York username and password.

Make sure you remember these.

You may want to write them down until you memorize them. From this point on you will use your new Passport York username and password.
Reset Your Passport York Password:
Click on the  "Reset My Passport York Password" link.
Enter your student number and date of birth.
Or visit the helpdesk counter at the Computing Commons, located in the William Small Centre, with a piece of photo ID.
NOTE: You can only sign up for a Passport York Account once. If at any time you forget your username or password you cannot sign up for a new account. You will need to follow the instructions on this page for resetting your password or looking up your username.
Once you have completed the two-part application process and have been accepted into the Science without Borders program and York University, you can begin the process of choosing the courses that you will take while at York.
Prior to enrolling in courses online, you must meet with the Undergraduate Program Director (UPD) or assigned advisor of your faculty or academic unit at York in order to finalize your course selections and ensure that they correspond with your area of study and that you have all prerequisites.
Advisor email address are listed below:

Faculty of Science:  Susy Ribeiro - sribeiro(at)yorku.ca
Faculty of Health: Jeniffer Hosein - distance(at)yorku.ca
Lassonde School of Engineering:  Gayathry Wright - gayathry.wright(at)lassonde.yorku.ca 
Faculty of Fine Arts: Ina Agastra - iagastra(at)yorku.ca
Faculty of Environmental Studies: Lily Piccone - lpiccone(at)yorku.ca
Before your advising appointment, you should preview the available courses and write a list of those that you are interested in taking. Make note of the course number, title, day and time of the class, and catalogue number as you will need this information to enroll. A database of information about all of York's courses is available on the York Course Website
Please click here for a guide on choosing your courses, planning your schedule and understanding course codes.
NOTE: 
 Some departments restrict the number of courses students may take in a given term.
When to Arrive

Please refer to our New Student Orientation page for orientation dates and move in dates for residence.
Arriving in Canada/Airport Welcome Service
York University offers an airport welcome service and transportation for York University international students and visiting scholars. Please see click here for information on how to register to be picked up at the airport and for information on how to travel to York University by public transit or taxi.
Housing
For many students, living on-campus and in residence provides great opportunities to connect with new friends and meet people from different backgrounds and cultures. Other students may prefer the chance to live elsewhere in Toronto. Please click here for useful information on what to consider as you make a decision about where to live.
Health Insurance and Health Care
In Canada, there are two types of health insurance. See Health Insurance.
All CSF students are required to have the primary and supplementary insurance.
| | | |
| --- | --- | --- |
|  CsF category and who pays | Primary Insurance |  Supplementary Insurance |
|  CNPq: Both insurance plans paid by CBIE. |  GuardMe Insurance |  York Federation of Students |
|  CAPES: Billed to your York account and paid by the student from monies from CBIE. |  UHIP |  York Federation of Students |
| Graduate Students:  Monies are given to the student and their dependents from CNPq  to purchase their own insurance. |   UHIP |  Graduate Student Association GSA Health Plan |
Please click here for information on mandatory health insurance known as UHIP, supplemental health insurance, medical facilities such as clinics and hospitals, and accessing counseling.
Students who are studying at York as a part of the Science without Borders program are required to participate in a 4 month, full-time, unpaid internship/placement in order to gain valuable in-the-field experience. Placements can be completed on-campus or off-campus.
York International will contact students with details on the process of looking for an internship.  The following steps are required in order for York International to assist with this process:
Attend an Internship Information Session
Attend suggested workshops as facilitated by the Career Centre/ York International
Complete and submit a placement form
Submit an updated resume and translated transcript (from home institution)
Write a statement of research/placement interests (brief statement of 2-3 sentences)
Students who do not follow these steps are responsible for finding their own placements.
Once a placement has been obtained, students are responsible for completing all the work requirements outlined by the employer and contacting York International.
The current handbook for students participating in a placement is available here.
York will provide official transcripts to CBIE who will deliver them to CNPq/CAPES.
Transcripts are available only one month after the end of the Term/Semester. e.g. Fall Term transcripts are available late January. If you wish to order a transcript for yourself, please order them from Office of the Registrar.
You can view your grade report at the following link:
http://www.yorku.ca/yorkweb/cs.htm   Just click on Grade Reports for FW for Fall/Winter.
You can also order your transcript from the Current Students website: http://www.registrar.yorku.ca/transcripts/.
Other relevant information:
Grading System at YorkU: Undergraduate and Graduate
Each course has a number of credits attached to it. Generally, this reflects the minimum number of in-class hours spent in the course each term:

a 3.0 credit course meets at least 3 hours per week for 12 weeks.
a 6.0 credit course meets at least 6 hours per week for 12 weeks.
a 9.0 credit course meets at least 8 hours per week for 12 weeks.
Note Summer terms and associated hours per week may vary.
In addition to their letter of acceptance, a CsF/SWB PhD student is required to provide the following documentation in order to secure their scholarship:
An official letter from their supervisor/ admitting Grad Program stating that they have agreed to be his or her supervisor and that they agree with the student's research project.
An updated version of the supervisor's academic resume.
Questions can be sent to fmorais (at) cbie.ca.